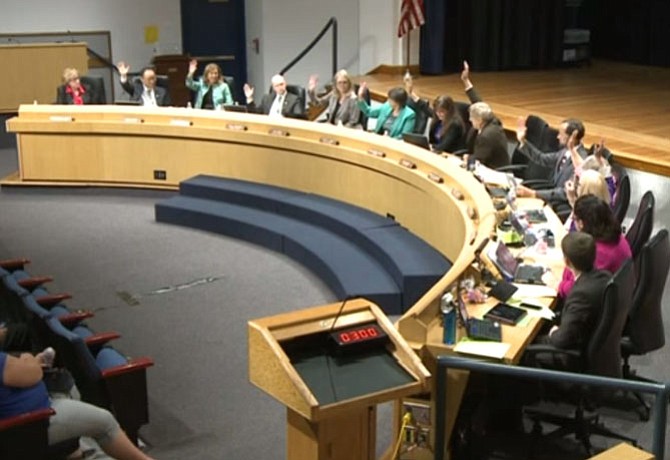 Citizen Michael Ducharme has lived with dyslexia since he was a student. His two daughters both have dyslexia. The father, representing the parents' movement Decoding Dyslexia, spoke at the July 9 school board meeting in support of the proposed Fairfax County Public Schools Strategic Plan that specifically addresses challenges in the schools facing students with dyslexia.
"We're now faced with the fact tomorrow is today, the fierce urgency of now," Ducharme said. "It's time for vigorous and positive action in this plan."
The plan, which the board approved on Thursday night, is a long-term strategic document with four main objectives of student success, caring culture, premier workforce and resource stewardship. It was developed with input and feedback from over 30,000 "stakeholders," according for Fairfax County Public Schools.
"Our growing and vibrant school system is now the 10th largest district in the United States, and having a clear plan and focus is critical to meet the needs of every child and deliver our Portrait of Graduate," Superintendent Dr. Karen Garza said in a statement. "Ignite is about energy — it is about expending the time and effort on the actions necessary to close achievement gaps, support our teachers, provide resources to our schools and help our students succeed in life."
According to the release from Fairfax County Public Schools, some of the specific areas for attention and priorities highlighted in the plan include:
Developing a more holistic approach to education by addressing students' social and emotional needs
Eliminating achievement gaps
Helping students develop real-world skills
Creating a balanced assessment framework as a way to decrease instructional emphasis on test preparation
Increasing instructional time available to prepare students for success along with more providing more equitable access to resources, especially technology
Hiring and retaining high quality teachers
Confronting budget issues that have led to the elimination of educational programming and employee positions.
The board voted 11 to 1 in favor of the plan, with Springfield representative Elizabeth Schultz as the only dissenting opinion.
"I feel like it sort of became a Mr. Potato Head: you have all the parts, but you're not sure what it's going to look like at the end." she said. "The biggest concern I have is not specifically identifying what the known challenges are, or perceived challenges are, with changing demographics, growing student population, types of education our students are needing ... the nexus of all of these I think we just didn't get to in this document."
Dranesville representative Jane Strauss said the nature of the plan is that it's built to grow and change. "The Strategic Plan is really a beginning, it's not an end," she said, "an evolving plan, not set in stone. It lays out and solidifies our belief in the direction we need to go. It gives us a roadmap forward but does not create guardrails that are so high we cannot make adjustments."
Providence representative Patty Reed supported the plan and asked there be "detailed discussions on how do we actually use the document."
"How do we use it to make budget decisions?" Reed asked. "Everything in here obviously has been well thought out … But we all know our budget realities. How can this document help us make some tough decisions."
Garza, speaking on the plan, said, "I would urge this board: Let's adopt this plan, move forward, spend time perfecting it over time. Otherwise we'll continue to spin."
The plan calls for a quarterly status report to be filed, with a school board reassessment scheduled for June to make and updates or adjustments.
The board also voted on a new charman and vice chairman to replace Tammy Derenak Kaufax and Ted Velkoff, respectively, for one-year terms.
In her outgoing remarks, Derenak Kaufax used candy to sum up some of her experiences with the board and its work going forward.
"We've had our Hot Tamales moments, a few Circus Peanuts moments," she said, "Mostly we're a group of dedicated Smarties passionate about our desire to educate the next generation. To do so effectively, we must be funded properly, so we're always on the hunt for that extra 100 Grand, or million."
Pat Hynes was nominated as the only candidate for chairman and subsequently voted through.
Board members spoke highly of Hynes' nine years as an elementary school teacher in Fairfax County Public Schools as well as her law background.
"I think the combination of your lawyerly skills and your very recent and constant view from the classroom to be very important to this board," said Strauss.
Mason representative Sandy Evans said Hynes "has been a very thoughtful member of our board as well as a very candid one."
Schultz offered her criticism that she would've liked to see more competition for the position, rather than a decision being made prior to the meeting. I think it's healthy for us as an organization," she said. But she didn't withhold her support for Hynes, saying the candidate is "going to get a cautious yes from me … the proof will be in the pudding."
After receiving the gavel from now former-chairman Derenak Kaufax, Hynes said, "The job of the chairman and vice chairman is to protect the process for everyone. Collaboration is an important skill and I will be relearning it this year and looking forward to it."
Velkoff nominated Sandy Evans for the vice chairman position. Evans also ran unopposed and also carried the vote.
"I would say she played a critical role in a couple of the signature accomplishments of this board," said Velkoff, including "reform of discipline process, later high school start times."
"The key trait," Velkoff added, "is willingness to compromise."
For more information on the "Ignite" Strategic Plan, visit the Fairfax County Public Schools website www.fcps.edu/news/strategic.shtml.