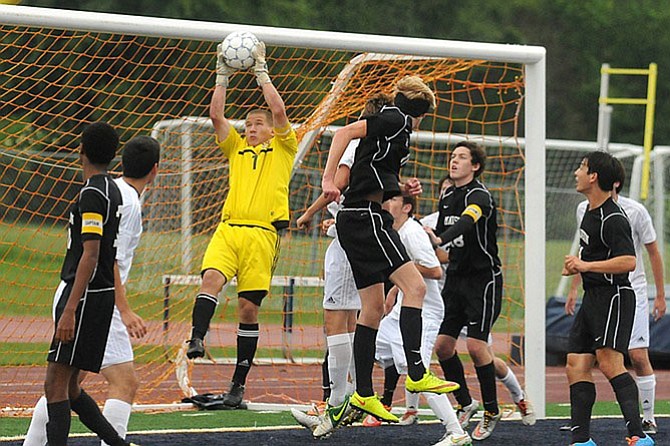 While Brian Breslin lacks the size of a prototypical goalkeeper, his skill and quickness led him to a senior season of accomplishment.
Breslin spent three seasons as the Woodson boys' soccer program's varsity goalkeeper. In 2015, the 5-foot-8 Breslin earned first-team All-Conference 7, first-team All-6A North region and second-team all-state honors while helping the Cavaliers advance to the region semifinals. Woodson finished 11-7-1 and fell one victory shy of qualifying for the state tournament one season after going 5-5-3 and losing in the opening round of the conference tournament.
Breslin, a 2015 Woodson High School graduate, will play soccer at Randolph-Macon College. The Yellow Jackets compete at the Division III level in the Old Dominion Athletic Conference.
Breslin recently participated in a Q&A via email with The Connection.
Connection: You'll be playing soccer at Randolph-Macon College next season. What made R­MC the right choice for you?
Breslin: Randolph-Macon is a smaller college where I feel like I can succeed, it has smaller classes and it's easy to get necessary help and actually get to know your professors. I like the idea of being a part of a class that could potentially change the tradition of the program as well as having a coach that has a past of winning.
Connection: What are you most looking forward to about going to college?
Breslin: I'm looking forward to meeting new people at college as well as developing as a keeper.
Connection: At what age did you start playing soccer?
Breslin: I started playing soccer when I was really young with my family and started house league when I was 5. I was originally a midfielder but got converted to keeper when I tried out for BRYC when I was 11.
Connection: When did you realize playing college soccer was an option for you?
Breslin: Sophomore year is when I realized I could play in college. I made ABGC and had a coach who helped with recruiting a lot and knew how to push me and made me work harder.
Connection: How does your height (or lack thereof) affect the way you approach being a goalkeeper?
Breslin: Being 5 feet 8 means I have to have very good positioning and communicate as much as possible. I'm quick so that helps being able to come off my line and cut balls out early.
Connection: What is your favorite memory of playing soccer at Woodson?
Breslin: My favorite memory was beating Stonewall Jackson in PKs this year, and getting mobbed by the team.
Connection: What is the most difficult part of being a goalie?
Breslin: The most difficult aspect of being a goalie is learning how to forget mistakes you made and stay positive in situations where it's hard to keep a level head.
Connection: Have you ever tried a sport and found out you were embarrassingly bad at it?
Breslin: I went to a driving range with my family on vacation and found out that golf is the only sport that I play where I'm so bad to the point that I almost explode with frustration.
Connection: Do you have a specific game day routine?
Breslin: I usually just do volleys, collapsed dives, practice my goal kicks, take a couple crosses and a few shots on goal before a game.
Connection: Looking back, if you could change one thing about your high school athletic career, what would it be?
Breslin: If I could change things about my high school athletic career, I would have worked more in my free time my freshman and sophomore year. I started working really hard and saw results quickly, wish I did it sooner.
Connection: You're sitting around playing a board game with family/friends. Do you play to play to have fun or play to win?
Breslin: With family I play to have fun but also try to beat my dad and talk trash to him because we are very competitive toward each other whenever we play any game.
Connection: What do you like to do when you're not playing a sport?
Breslin: When I'm not playing sports I like playing FIFA, watching TV and hanging with my family because we are very close.
Connection: Are you a pro sports fan? Which team(s) do you root for?
Breslin: I'm a Wizards, Nationals, Redskins, and Real Madrid fan. I follow Madrid very closely; I either watch every Madrid game on TV or live stream
Connection: What location is the farthest you've traveled from the Washington, D.C metro area?
Breslin: The farthest I've ever been from the U.S. Is Aruba, which is also my favorite place I've ever been.
Connection: What's your favorite food?
Breslin: My favorite thing to eat is calamari. I order it at most places where it's available.
Connection: Who is your favorite music artist? Why?
Breslin: I'm a huge fan of Eminem. I love his word play, his beats and the fact that he says what he wants without caring about people's opinions.
Connection: What is your favorite movie? Why?
Breslin: 'Braveheart' is my favorite movie. I love the acting, storyline, action and the soundtrack that goes with it makes it even better.