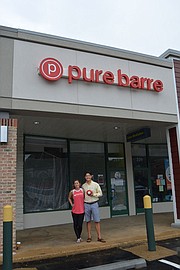 A new boutique fitness studio is coming to town. Nicholette Dunleavy and her husband Michael Dunleavy are opening a Pure Barre studio in Vienna. Not only is Pure Barre an efficient workout for any novice or expert fitness guru, the Pure Barre experience is neatly packed into 55 minutes of low-impact, small isometric movements. This full-body workout, appropriate for any level of active individual, can easily fit into any busy schedule.
Michael Dunleavy grew up in Fairfax Country and held an active role in his community as an Eagle Scout and president of his class at Virginia Tech. After graduating from Virginia Tech, Michael has since earned his CPA and now works in Fairfax City. Nicholette grew up in Baltimore, Md., and led an active, sporty lifestyle from a young age. She graduated from Salisbury University with a degree in marketing and then received her MBA from Towson University.
THE IDEA behind the studio came from a combination of Nicholette's energy and passion for exercise, and Michael's roots in Fairfax County community. Their individual passion of contributing to their communities progressed their interests in giving back to the community - and together they decided to open a Pure Barre franchise in Vienna.
After trying about all the potential workout routines, and trying to fit them into her busy work and life schedule, Nicholette discovered Pure Barre. "It's so efficient and fits in best with my schedule," she said. "It's a 55 minute workout and something you can do every day." Also excited about the benefits of Pure Barre and its appeal to such a wide variety of people, Michael added, "It's important to note that it's low-impact."
Not only does Pure Barre bring a fun and accessible workout routine to the Vienna community, Nicholette noted that the franchise is also very much about becoming a part of the community "with its big charity focus and nationwide charitable contributions." Each franchise owner selects a charity to support and participates in Pure Barre's "Pure Give" every year. Every August, Pure Barre studios across the country compete to see who can raise the most money. After one month of donations, Pure Barre corporate matches the donation of the top three studios.
Only a week after their honeymoon, the couple interviewed for the franchise location. "Everyone in Vienna is so supportive of the local community," Mike said. "We couldn't be happier that we found Vienna." The trainers hired for the studio have a wide range of ages and come from different backgrounds which include cheerleaders and dancers.
The Pure Barre franchise is designed for women, by women. Men are also welcome to attend the classes, but the workouts are specifically designed and crafted to target the areas with which many women say they struggle the most. "I love women and being with them to do something positive," Nicholette said. The Pure Barre mentality, coupled with its charitable backing, will bring the community together through exercise.
THE STUDIO is scheduled to open the first week in August at its new location in Vienna at 218 Maple Avenue West. During the opening weekend, all classes will be free of charge and anyone can come in, try Pure Barre, and make a donation of their choice. All proceeds from the weekend will also go towards Pure Barre's Pure Give campaign. There will also be a pre-opening special that includes a five week membership of $100. On Tuesday, July 28, there will be an event at The Vienna Inn where the Pure Barre team will be running a raffle and have a table to answer any questions.
There is "not a stereotype for who can be a client," says Nicholette. "As long as you can hold a ballet barre, you can do pure barre."