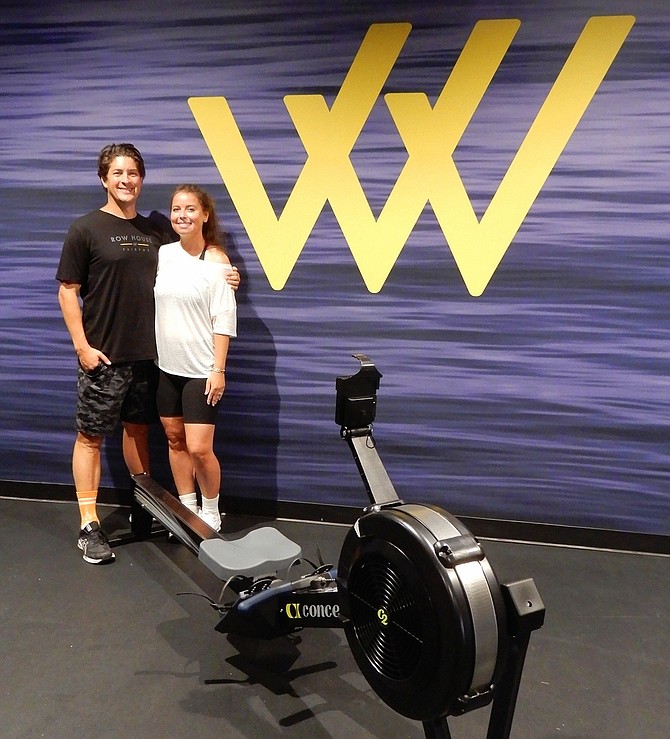 People looking for a different – and safe – form of exercise may well find it in Row House, a boutique, indoor, rowing fitness studio in Fair Lakes. It just moved into 4463 Market Commons Drive, near Pei Wei restaurant and Whole Foods.
Participants will use the same Concept 2 ergometer rowing machines used by Olympic athletes. And husband-and-wife owners, Mike and Nicholette Dunleavy, say their classes are perfect for people who want to have a healthy lifestyle.
"It's a full-body, high-intensity, low-impact workout that uses 86 percent of your muscles," said Mike. "Anyone, from beginners to fitness junkies, should be able to do it and get anything they need from it, and it can easily be modified to suit the individual."
"You get the calorie burn from the high-intensity part, but the low impact makes it easy on your joints, so it's sustainable," explained General Manager LeighAnne Baxter. "You choose your own intensity, and you get out what you put into it. Coaches will get you set up for the best results for yourself. Our goal is to help everybody reach their own goals."
THE MACHINES have heart-rate monitors that track participants' heart rates while rowing. "They can see it, but no one else can," said Nicholette. "And they also get an email after class telling them how far they traveled and how fast. Or they can check an app to see how they did."
She and Baxter are among the seven coaches who'll lead the 45-minute classes which will be offered all day from 6 a.m.-8 p.m. "We recommend clients book ahead of time but will accept drop-ins if there's room in a class," said Nicholette.
"There's mood lighting, and people are rowing as if they're one team, in cadence, to the beat of the music," she continued. "They're not in competition with the others, just with themselves. We're not going to call out anyone to go faster or beat someone else."
Mike Dunleavy described it as similar to the spin class, SoulCycle, but on a rower. "It's a new concept," said Nicholette. "There are currently 50 in the nationwide franchise, and we're the first one in Fairfax County."
A 2004 Robinson Secondary School grad, Mike grew up in Fairfax Station, and he and his wife now live in Fair Lakes. Nicholette operates five other fitness studios offering Pure Barre ballet-based workout classes, but Mike loves rowing, so the couple decided to open Row House. And, added Nicholette, "Since mainly women are in my ballet classes, I was excited to offer something that would attract men, too."
She said they chose East Market at Fair Lakes for their new venture because "We live here and love this shopping center. We know it's a really vibrant location; and with the Whole Foods here, we wanted to be in an area that draws people from all over."
They're also taking strict, precautionary measures because of COVID-19. "Unlike in a big gym, you'll have your own, individual, workout station, socially distant from others, for the whole class," said Mike."
"The rowing machines are 10 feet apart," added Nicholette. "And once people are in their station, there's no movement around the room. There'll be just 11 participants per class, and we'll sanitize and clean the equipment in between people."
The staff will wear masks, and customers must wear them to enter and have their temperatures checked, but they won't have to wear masks while rowing. And check-in is via an app, so it's contactless.
The attire is comfortable workout clothes and sneakers. And, said Baxter, "While rowing, you don't have to adjust the machine. You create your own resistance and workout intensity by how hard and fast you row."
It's also fun, said Mike – "The upbeat music and lighting bring the whole experience together. And it's even gamified [turned into a game] with an app on your phone."
Furthermore, said Nicholette, "We're essentially a one-stop shop because we also have light weights and body-resistance equipment for customers to use. And we stretch at the beginning and end of each session."
"Every class is a mixture of body and strength training, plus cardio," said Baxter. "And people receive personalized, one-on-one training, while enjoying the community of exercising with others."
THEY HOPE to begin classes in mid to late fall but are pre-selling memberships at a special discount now. To join, go to https://www.therowhouse.com/location/fairfax. Rates for founding members are $119/month until Row House officially opens. After that, it's $179/month for unlimited classes.
Nicholette recommends rowing for a variety of reasons. "If people haven't been hitting their fitness goals, have been injured and want to do something that's safe and of less intensity, want to get stronger or want to lose weight, they should try it," she explained. "Whatever their goal, we can help them create a workout plan tailored for their needs. We offer music-driven classes with knowledgeable, helpful teachers in a fun, team environment."