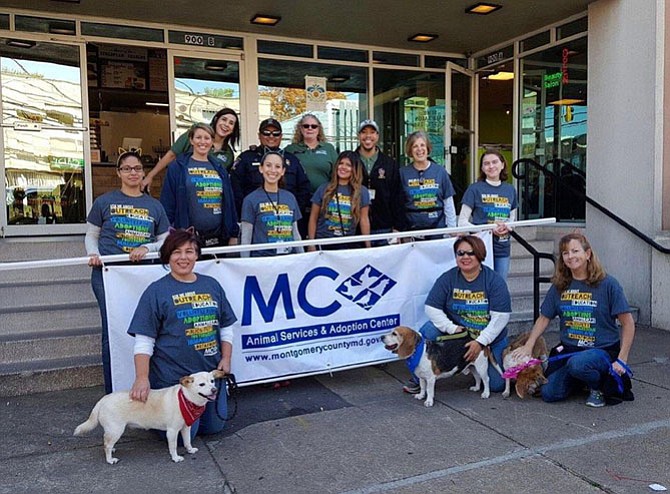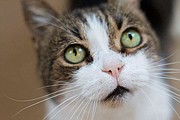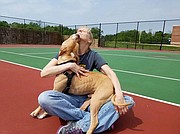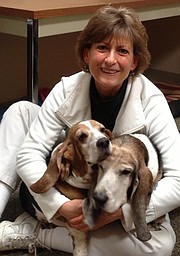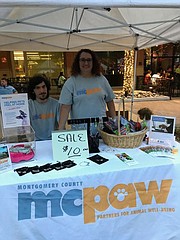 "Adoption is really like our bread and butter. We do have several dogs here who have been overlooked. I encourage people to come in and look at any animal who has been here for a long time." — Katherine Zenzano, Community Outreach Coordinator, Montgomery County Animal Services and Adoption Center
Get Involved
Montgomery County Animal Services and Adoption Center
Montgomery County Animal Services and Adoption Center (MCASAC) is the county's civilian-run, open-admissions shelter under the Montgomery County Department of Police. They assist homeless, stray, and other in-need animals, according to MCASAC Community Outreach Coordinator Katherine Zenzano.
Adoption and fostering are two major ways people can assist the center, Zenzano said. Its website, montgomerycountym..., also includes a wish list provided by Montgomery County Partners for Animal Well-Being (MCPAW) of items the center is in need of, according to Zenzano.
Zenzano added that people are always welcome to visit the center, located at 7315 Muncaster Mill Road in Derwood and see the animals and facilities first-hand. She encourages people to follow them on social media: Facebook (facebook.com/MCASAC), Instagram (instagram.com/mca...), and Twitter (twitter.com/mcasac).
"We've had animals who themselves [said] 'Come on, I need a place to go,'" Zenzano said. "Social media really got them out of here. That's huge."
Get Involved
Montgomery County Partners for Animal Well-Being
Montgomery County Partners for Animal Well-Being (MCPAW) is the Montgomery County Animal Services and Adoption Center's (MCASAC) non-profit partner. They work to support the needs of MCASAC and its animals, rather than working directly with animals, according to MCPAW Executive Director Chris Shaughness.
Shaughness said MCASAC's not being able to accept public monetary donations as a result of it being a Montgomery County-run organization is a significant way in which MCPAW assists them, by paying for expenses such as enrichment items for the animals. MCPAW's board members also volunteer at MCASAC in a number of ways such as walking dogs and cleaning cat cages, she added.
One major way, Shaughness said, in which those interested in volunteering with MCPAW can get involved is by working at MCPAW's tables at events they attend. This allows the organization to provide additional community outreach and education, she added. The organization also posts on its Facebook (facebook.com/MCPAW) and Twitter (twitter.com/MCPAW) pages and sends out regular email updates, according to Shaughness.
"The grassroots way is the only way we're going to do it," Shaughness said.
For more information, people can send an email to contact@mcpaw.org.
Calling all animal lovers. Whether it is adoption, fostering, or volunteer work providing care and enrichment items as well as the greater community with education and outreach, there are a wealth of animal-related opportunities in Potomac and Montgomery County.
These opportunities include working with the Montgomery County Animal Services and Adoption Center (MCASAC), the county's open admissions animal shelter, and Montgomery County Partners for Animal Well-Being (MCPAW), MCASAC's non-profit partner.
Having opened in March 2014, MCASAC is an open-admissions, civilian-run county animal shelter that falls under the Montgomery County Department of Police. According to MCASAC Community Outreach Coordinator Katherine Zenzano, the center's animal control officers, or field services officers as the center refers to them, patrol the county and take in stray pets. More specifically, the center practices a scheduled admissions policy, Zenzano said.
"We ask people who want to or are looking to surrender a pet to schedule an appointment," she said. "In the meantime, we encourage them to try and see if there's a friend or a family member that would be able to take that animal."
In the event that someone cannot find anyone to take in their pet, they then attend their appointment with MCASAC, according to Zenzano. This policy allows the center to more easily control the number of animals staying with them, she said. Furthermore, animals can stay at the center as long as they need, she added.
MCASAC has a full-time behavior specialist and a contracted behavior specialist in addition to volunteers that ensure the animals are getting an appropriate number of treats in reward for good behavior, time outside, and time to socialize with other animals and people, Zenzano said. She also noted that the center has showcase rooms for cats that require a larger living space with other cats.
"If we're short-staffed one day, we'll use our Facebook group to send a call out to volunteers to come in and help with walking the dogs that evening," Zenzano said. "There's never a shortage of enthusiasm from volunteers willing to come in and help out with that."
Other services MCASAC provides include free monthly vaccination clinics between April and October and $10 microchips, according to Zenzano. She referred to MCASAC as an "adopt first" organization in always trying to get people to rescue an animal if they can.
"Adoption is really like our bread and butter," Zenzano said. "We do have several dogs here who have been overlooked. I encourage people to come in and look at any animal who has been here for a long time."
Zenzano also stressed the importance of the center's cat programs, using the example of their barn cat program. This involves placing cats in alternative living spaces, rather than a residential home, such as a barn or a warehouse as a result of certain personality or behavioral traits the cat has, she added.
"You have to have good cat programs in sheltering because they account for so much of the intake and so much of euthanasia," Zenzano said. "[The barn cat program is] another what we would consider life-saving alternative program."
Additionally, the center has a foster program, which Zenzano considers a great opportunity for people who want to try having a pet in their home without making a permanent commitment. The center's foster coordinator will match people interested in participating with an animal based on what their specific situation might require and how long of a commitment they are looking to make, she added.

According to Zenzano, MCASAC's next major event is the third annual Clear the Shelters with NBC4 and other regional animal shelters on Aug. 19, in which they will be forgoing every adoption fee. During each of the last two years, the center has had more than 70 adoptions on this day, she added.
"It is a wonderfully crazy day," Zenzano said. "It's beautiful chaos as I call it where [every staff member and volunteer comes] together and we reroute things."
Zenzano believes that while anytime is a good time to adopt an animal, doing so over the summer is great if people have a lot of time on their hands. A week is likely ample time to adjust to a new animal in the house, so now is definitely ideal with about a month remaining for families before children return to school, she added.
MCPAW is a not-for-profit organization that partners with MCASAC. This involves working with MCASAC to help fulfill their needs as well as the animal's needs because MCASAC cannot accept public donations as a county-run organization, according to MCPAW Executive Director Chris Shaughness.
Shaughness said MCPAW's relationship with MCASAC more specifically involves providing enrichment items for the animals staying at the center. This could mean bully sticks for dogs or cat towers for cats, she added.
"[Bully sticks] are like a bone and [they calm] the dogs down, [and give] them something to do," Shaughness said. "[And] we purchased cat towers for the cat colony rooms [because they give] the cats places to climb up — cats like to be up high. We also bought the fencing to build the exercise area for the dogs outside."
MCPAW's goals include decreasing the number of animals that MCASAC takes in, according to Shaughness. Their signature program — Spay It Forward — is one way in which they aim to accomplish this goal, she said.
"We have a grant with the state and we work with feral cat colony caretakers to do trap, spay and neuter, and release of cats with hopes of reducing the number of strays that come into the shelter," Shaughness said. "So if we are spaying and neutering them, hopefully we're cutting down on the number of kittens born who would then be potentially coming into the shelter."
According to Shaughness, another goal of MCPAW is to educate and provide community outreach on the subject of animal well-being. She discussed testifying before the Montgomery County Council on July 18 in favor of an ordinance to forbid wild animal acts in the county as one example of how the organization is working to achieve this goal.
Bill 23-17 would ban performance animal use in the county. According to County Councilmember Craig Rice, who is one of the bill's lead sponsors, circuses and other performances should not promote animal maltreatment, specifically with regards to exotic or wild animals. Rice also represented District 15 which includes part of Potomac in the House of Delegates from 2007 to 2010.
"The bill is overwhelmingly supported by a large group of folks in our community," Rice said. "If you wouldn't take a bullhook to your dog because your dog peed on your rug, why would you take a bullhook to an elephant or to a lion or to a bear or to a tiger."
SHAUGHNESS BELIEVES adoption is important because it helps reduce the number of homeless animals. She added that one reason she believes it is often overlooked is because of the misperception that homeless animals are homeless as a result of their own wrongdoing when it is often due to a matter concerning their owner's situation. She aims to reduce this stigmatization through additional educational efforts.
"I am a huge advocate of shutting down puppy mills," Shaughness added. "I'm always educating people about where they're getting their puppies to make sure that it's a reputable breeder because most people still think that going to a pet store is an appropriate place to buy a puppy and it's not. Also some people go to farms — they claim their pets are family raised but they're actually just a front for puppy mills."
Other services that MCPAW provides, according to Shaughness, include a Veterinary Medical Fund which allows them to raise money for surgeries or other medical services required by MCASAC animals with special needs and a Loyal Companions Program in which they provide grants to cover veterinary bills for people who adopt pets with special needs. MCPAW's Amber Care and Purple Care programs pay adoption fees for dogs and cats, respectively, who are nine or older, she added.
Currently, they are co-hosting the Friday Night Live concerts in Rockville Town Square through early September in which they have tables set up to provide information about their organization, Shaughness said. She added that they are holding Rowing for Rescues on Saturday at CrossFit Shady Grove.
"Each participant will get 10 minutes on the rowing machine to row as many meters as possible, and there will be prizes for the top fundraiser and for the longest distance rowed, both male and female," Shaughness said. "All proceeds go to MCPAW."
According to Shaughness, MCPAW is also holding the MCPAW Party at the Bolger Center in Potomac on Oct. 20. This annual fundraiser will host people and their dogs, and will feature multiple competitions including "best-dressed dog," and "best-dressed owner," she said.