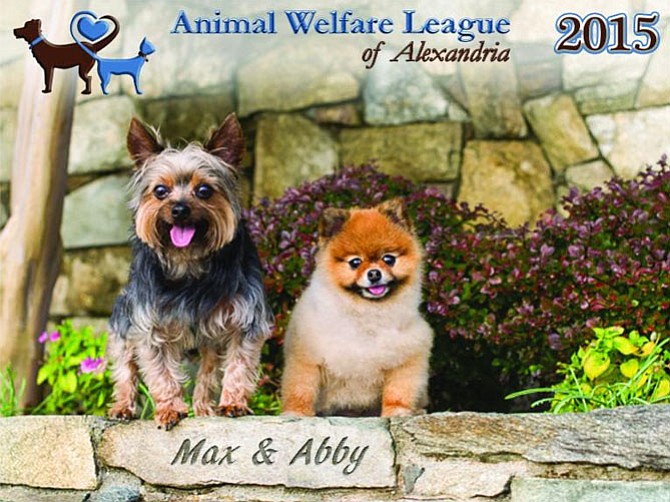 Alexandria — Does your dog look at a camera and smile, or do your cats like to snuggle together? Or maybe your guinea pig shares dried papaya with your cockatoo? If your pet is especially adorable, capture the moment, and he or she could become the 2016 Alexandria Animal of the Year. The winner not only becomes a city celebrity but also the pet will get a glamour shoot by photographer Shelley Castle and the pet's owners a photo shoot of their own by Gena Roma Photography.
The Animal Welfare League of Alexandria's annual Calendar Pet Photo contest begins Aug. 17 and ends on Sept. 17. Any pet is eligible to enter — any cat, dog, bird, fish, hamster, rabbit, turtle, guinea pig, lizard or snake can strike a pose. Just submit your pet's photo online beginning Aug. 17 at www.AlexandriaAnimals.org/calendar.
Each entry costs $30, but there is no limit to how many animals one person or family may enter. Every pet that is registered for the calendar contest will have a place in the calendar, regardless of votes, and those with the highest numbers of votes will be featured as pets-of-the-month or as the cover model "Alexandria Animal of the Year." Once you register your pet, encourage your friends and family to vote for your pet's photo to ensure prime placement in the calendar. Votes are $1 each, with a minimum donation of $5.
Pet calendars will go on sale in November. All donations and monies raised from the contest go toward programs and operations of the shelter and AWLA, including animal adoption and foster programs, humane education programs, behavioral training and other services designed to reduce homeless animal populations in the City of Alexandria. Information about sponsorship opportunities is available at 703-746-5580.