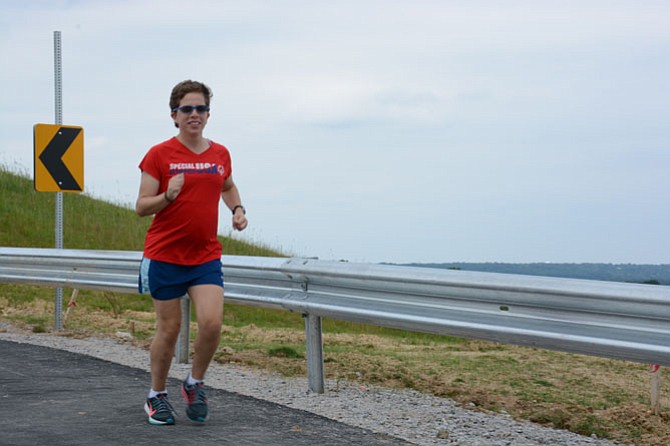 Karen Dickerson has run 16 marathons, well on the way to reaching her goal of completing one in every state in America. At 29, Dickerson has been a Special Olympics athlete for 18 years.
At this year's Special Olympics World Games in Los Angeles, the Springfield resident is scheduled to compete in the 10K (track) and half-marathon (road) races. It will be her third World Games: She competed in Israel in 2003 and Greece in 2011.
The half-marathon will be "unified" competition, meaning Special Olympics athletes will run alongside an open field in Long Beach. "It will be a real face," said Dickerson's mother Ernestine. "She loves the competition."
After a Special Olympics coach first "saw that I could run" in seventh grade, Dickerson began competing in more and longer races, including high school track and Special Olympics events. She was eventually chosen to represent the United States in international competition.
Dickerson said she "likes marathons and likes to travel," so the opportunities were a dream come true for her. The travel has also given her the opportunity to meet many new people. Though quiet in person, her mother said Dickerson is "constantly" keeping up with friends on Facebook and email.
TO TRAIN for half and full marathons, Dickerson typically runs between 40 and 50 miles per week, listening to a soundtrack of country artists including Tim McGraw.
When she's not pounding the pavement alone, Dickerson likes to work out with groups from the Burke Potomac River Running store and Pacers store in Fairfax. There's also cross- and weight work with trainers at Onelife Fitness and Everybody Fitness.
To get even more cross-training in, Dickerson has added lap-swimming to her regimen. She practices with the Burke Barracudas, a Special Olympics team that works out at the Burke Racquet & Swim Club.
Terry Mitchell has been the coach of the team since 1997 and helped Dickerson develop stroke skills.
"She's an amazing athlete -- she's very quiet, very introspective, but she knows what she has to do," said Mitchell. "When you tell her, 'You need to modify stroke, to do this,' she really takes it on board, you see her trying to achieve that."
Mitchell's daughter Jennifer swims with the Barracudas, as does Luke Ferris, 18, of Falls Church, who will be joining Dickerson in Los Angeles. He's set to compete in the open water swimming event.
BETWEEN WORKOUTS, Dickerson works part-time at the new Wegmans in Alexandria, though she's worked at the Fairfax location for the last 10 years. She also enjoys walking the family's Australian shepherd Sam.
Her brother Joey is also a Special Olympics athlete in softball and basketball, and Dickerson said they aren't necessarily competitive with one another. The rest of their immediate family includes brothers Tommy and Jimmy, and father Joe.
For Dickerson, her past successes and future plans for success are based around goal-setting and determination. She hopes her running will "inspire people to work hard for their goal," she said. "Don't let anyone say, 'You can't.'"
In the half-marathon, Dickerson's goal is 1 hour, 40 minutes. Her next full marathon is in November, in Florida. And that's one more state off her checklist of 50.
The opening ceremony for the Special Olympics World Games will be on July 25. That and coverage of the games, which last until Aug. 2, will be broadcast on ESPN.