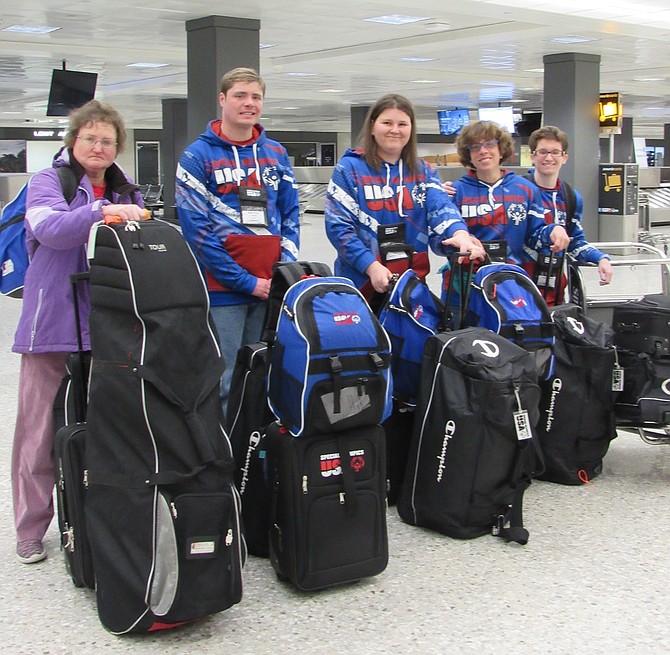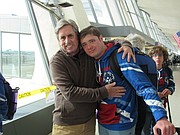 With many hugs, high-fives and applause, five of the seven Special Olympics Virginia athletes and a coach boarded a United flight out of Dulles International Airport on Wednesday, March 6. The athletes would be part of the 215-athletes in the Special Olympics USA delegation headed to World Games Abu Dhabi 2019. Opening Ceremony is March 14 followed by six days of competition for the reportedly 7,000 plus participating athletes from 190 delegations competing in World Games 2019. Closing Ceremony is Thursday, March 21. Of the five Virginia athletes who departed Dulles, four came from the Northern Virginia area and one from Fredericksburg.
Dylan Joseph "Joey" Roney, 21, of Herndon, will compete on the world stage in swimming, the 100m freestyle, 4x100m freestyle relay and 200m freestyle. Roney currently swims with the Oakton Swim Club that practices alongside the Oakton High School swim team. "This is an incredible opportunity for Joey," said his grandfather, Chuck Roney, as team members met up at Dulles International Airport. "None of this would be possible without Special Olympics and the thousands of volunteers," he said. Although athlete Roney said he was excited, he confided, "I'm feeling a little nervous and scared because this is my first time."
Victoria "Tori" Martin, 24, of Woodbridge, swam before she could walk. Through swimming, Martin reportedly found purpose, routine and stability according to Special Olympics. "In preparation for this event, she has worked out six days a week in addition to practicing with her coaches three times a week," said, Bob Martin, her grandfather. "She is the most dedicated athlete I have ever seen," he said. "I'm feeling nervous, anxious and pressured," athlete Martin said. She added that she couldn't wait to explore Abu Dhabi.
Karen Dickerson, 33, of Springfield, will run the Half marathon, the 10,000m and the 4x100m relay at the Special Olympics World Games in Abu Dhabi. Athlete Dickerson has run 27 marathons across the globe. "I cannot say enough about Karen's determination and dedication," said her mother, Ernestine Dickerson. "It is amazing what she has accomplished not only through sports but in life." Athlete Dickerson provided guidance to her fellow Special Olympics Virginia athletes while waiting to leave Dulles. "You don't have to have a good or a bad competition or race. Just know you did the best you could. All athletes go through ups and downs. Don't put yourself down," she said.
Jenny Mitchell, 39, of Alexandria, is a Special Olympics USA swimmer and one-time silver and two-times bronze medalist at Special Olympics World Games in Shanghai and a participant in Special Olympics World Aquatics Invitational in Puerto Rico. Athlete Mitchell will compete in 1600m open water swimming and 800m freestyle at the Special Olympics World Games in Abu Dhabi. "She has been training hard for this," said her father, Terry Mitchell. "She is the first Special Olympian athlete to swim across the Potomac from Jones Point to National Harbor," he said. "I'm ready to go," said Jenny Mitchell.
Grace Anne Braxton, 43 of Fredericksburg, Va., is looking for a top spot on the Special Olympics podium in Abu Dhabi as she was the top-rated female Special Olympics golfer in the world 2007 and 2001 according to Special Olympics. "Special Olympics has helped me become an active person in my community. I help out as a volunteer with Basketball Championships and as a volunteer with new local golfers," Grace Anne Braxton wrote in her Special Olympics profile. "I'm expecting a new adventure," she said at Dulles International Airport.
The Joseph P. Kennedy Jr. Foundation created Special Olympics. Special Olympics Team USA is authorized and accredited by Special Olympics, Inc. for the benefit of persons with intellectual disabilities.
Keep up-to-date on all of the information about the Special Olympics World Games with televised schedule and results by visiting, www.abudhabi2019.org.
Schedule

(USA – EST is 8 hours behind Abu Dhabi)
HERNDON – Dylan Joseph "Joey" Roney – Swimming
Sunday, March 17, 9 a.m., 200m freestyle
Tuesday, March 19, 3: p.m., 100m freestyle
Wednesday, March 20, 3:40 p.m., 4x100m freestyle relay
WOODBRIDGE – Victoria Martin – Swimming
Saturday, March 16, 3:20 p.m., 100m individual medley
Wednesday, March 20, 3:40 p.m., 4x100m freestyle relay
Wednesday, March 20,10:10 a.m., 100m breaststroke
Sunday, March 17, 9 a.m., 200m freestyle
SPRINGFIELD – Karen Dickerson – Athletics
Saturday, March 16, 6:30 a.m., Half marathon
Wednesday, March 20, 8 a.m. 10,000m run
Wednesday, March, 20, 4 p.m., 4x100m relay
ALEXANDRIA – Jennifer Mitchell – Open Water Swimming
Saturday, March 16, 10 a.m. 1,500m Open Water Swimming
Tuesday, March 19, 9:20 a.m. 800m freestyle
FREDERICKSBURG – Grace Braxton – Golf
Sunday, March 17, 8:50 a.m., Level 5 – Individual Stroke Play