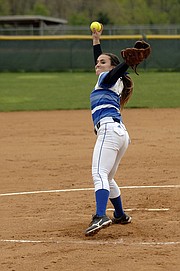 Patty Maye Ohanian arrived in Mission Viejo, Calif., on Friday to train for what she called her "most important" travel softball tournament of the year.
Ohanian, a Burke resident and rising junior pitcher and slugger on the Bishop O'Connell softball team, plays travel ball for the SoCal Bandits, a Huntington Beach-based branch of the Illinois-based Beverly Bandits. Ohanian and her teammates will compete in the 16U premier division of the Premier Girls Fastpitch tournament Aug. 1-8.
Travel softball tournaments are nothing new to Ohanian, a competitive and driven athlete who has dedicated countless hours to her craft. But this tournament has taken on added importance after a coaching change at the University of Illinois shifted Ohanian's softball future into a state of uncertainty.
Ohanian spent most of her 10U-16U travel seasons playing for the Vienna Stars. She also played one season with Virginia Glory and attended multiple camps with the goal of getting noticed by college coaches.
Ohanian's hard work paid off with a full scholarship offer from the University of Illinois. Ohanian, then a freshman at Lake Braddock Secondary School, committed to the Fighting Illini.
THE FOLLOWING YEAR, Ohanian transferred to Bishop O'Connell and excelled in both the pitcher's circle and the batter's box. She posted a 1.75 ERA in 44 innings pitched, and batted .594 with nine home runs and 57 RBIs in 30 games. She was named VISAA state Player of the Year and was a first-team All-Met selection by the Washington Post.
"People ask me [about the effects of committing early] a lot," Ohanian wrote in an email. "They ask me if I got lazy. They ask me if I stopped practicing. The answer is, NO. I don't play softball for the scholarship. I play softball to be the best I can be. I am not naturally the 'perfectly built softball player.' I'm 'too short' to be a pitcher, and I'm 'not from the right area.'
"Every day I take off, someone else is taking advantage of it. The only thing that changed for me was how much more I knew I had to work hard to compete in the Big 10. Everyone who watches me play tells me I seem very intense, and I am. I mentally challenge myself every pitch of every game because I know how intense college will be. I play because I love to compete, with myself and others. I want to see how far I can take this thing."
Things were going smoothly for Ohanian until Terri Sullivan, who spent 16 years as head coach of the Illinois softball program, announced in early June that she would retire. Ohanian, who listed Sullivan as one of the main reasons she committed to Illinois, retweeted the coach's retirement announcement from the Illini Softball Twitter account.
"Going into my unofficial visit, I was timid, knowing nothing about the university," Ohanian wrote. "When I met the coaches, I felt unbelievably at home. The head coach that recruited me, Coach Sullivan, and her assistants, Coach [Donna] DiBiase and Coach [Katie] O'Connell, were exactly what I was looking for in coaches. They were athletic, and energetic. My personality fits well with that type of leadership. After looking in to the university, I found out how great of a school it was academically, too."
How did Ohanian react to the news of Sullivan's retirement?
"My initial reaction was very upset," she wrote. "I was sitting in [O'Connell] Coach [Tommy Orndorff's] office during lunch one day when I got a text from one of the recruits telling me what had happened. As I said before, one of the main things I liked about the school so much was her, and once she was gone it felt like what I had imagined it to be like was all gone."
Less than a month later, Illinois hired Tyra Perry as head coach. According to Ohanian, "the commitment fell through about a week later."
"Pitching is a hard thing," Ohanian wrote. "Some coaches want power pitchers, some want junky movement pitchers. Some want 6-foot tall girls and some want girls like me (5 feet 8). The new coach and I weren't a good fit, personality-wise or pitching-wise."
After committing early in her high school career and seemingly saving herself from a stressful process down the road, Ohanian finds herself uncommitted entering her junior year.
"The early college softball recruiting has gotten out of hand," Ohanian wrote. "Girls in the seventh and eighth grade commit to colleges. There was no specific reason why I committed then, to be honest. It was normal. I was right on schedule with all other 2017 pitchers who want to compete at the highest collegiate level."
When asked what she meant by softball recruiting getting "out of hand," Ohanian mentioned several reasons.
"I said that because softball is one of the earliest sports that recruit," Ohanian wrote. "Girls in the seventh and eighth grade commit to college, similar to me. The problem with this is that five or six years is a long time in the collegiate athletics business. Coaches can change, and even more than once, in that time period. Girls can peak early, and not get any better from their eighth grade year on. Or, girls can peak late, but by the time they're up to speed, spots are already filled.
"The early recruiting puts players, parents, and coaches in tough positions and forces them to make decisions that seventh and eighth graders should not be making. A lot of the time, everything works out, but the amount of times things change or go wrong after a player commits early and then de­commits for various reasons is growing too fast."
OHANIAN IS CONFIDENT everything will work out.
"On my travel team, we have girls going to DePaul, ASU, Louisville, Southern Utah, and Miami of Ohio, but we also have many other girls who have not committed," Ohanian wrote. "All that changes now is that I go back into the pool of girls who are not committed. There are plenty of Division I schools who still need pitchers and hitters. I know what I want in a school, I know how far away I want to go, and what I like and dislike in programs and coaches now. I truly believe I learned a lot from this experience."
Next up for Ohanian is the Premier Girls Fastpitch tournament.
"This tournament is the most important of the year, so it was definitely important all year long," Ohanian wrote, "although now that I de-committed, I know the importance of performing well in front of all the scouts that will be at the tournament."