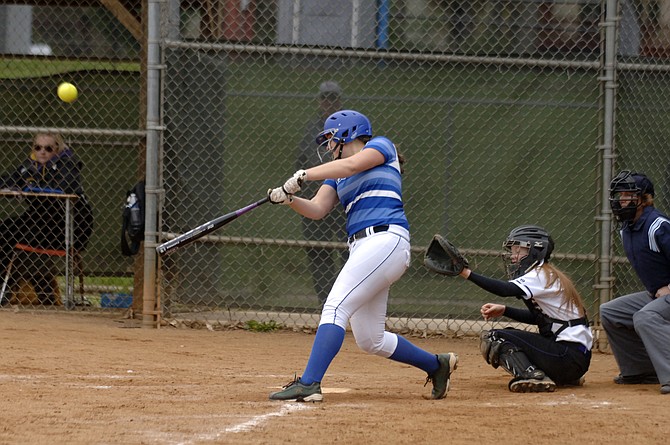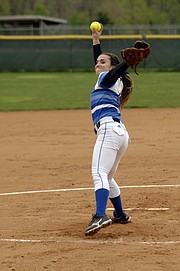 Tommy Orndorff, in his 30th season coaching the Bishop O'Connell softball program, wasn't pleased with the Knights' performance in recent weeks.
After a stellar start to the 2015 campaign, O'Connell's victories started to lack the polish and convincing style with which the veteran coach preferred. On April 22, the Knights suffered their first loss of the season, a 2-1 defeat against Elizabeth Seton.
On Saturday, the stage was set for O'Connell to show what it was made of. The Knights traveled to Burke for a matchup with Lake Braddock — a private/public school showdown between two of the top three teams in the Washington Post's softball rankings (O'Connell was No. 2, Lake Braddock No. 3). Adding to the drama was O'Connell sophomore and University of Illinois commit Patty Maye Ohanian, who played for Lake Braddock as a freshman, getting the start in the pitcher's circle for the Knights.
For six innings, Lake Braddock pitcher Amanda Hendrix shut down the O'Connell lineup, limiting the Knights to three hits. The Bruin left-hander escaped unscathed from a bases-loaded, no-out jam in the fourth and was the latest contributing factor to the Knights' struggles.
Trailing 3-0 and down to its final three outs, O'Connell was on the verge of its second loss in four days. That's when the Knights responded with an offensive feat Orndorff would doubt he had seen in three decades with the program.
O'Connell erupted for nine runs on eight hits in the top of the seventh inning and pulled out a 9-3 win on April 25 at Lake Braddock Secondary School.
The Knights sent 13 batters to the plate during the inning and all nine members of the O'Connell lineup either reached base at least once or drove in a run.
"Going into the top of the seventh," O'Connell first baseman Olivia Giaquinto said, "we kind of came together and we were like, 'We've got to do this now and we're going to do this.'"
Giaquinto led off the frame with a single and right fielder Kayla Turner followed with a single to bring the tying run to the plate. Two batters later, freshman designated player Kathryn Sandercock delivered a two-run double, cutting the deficit to 3-2.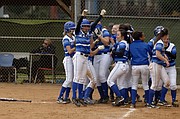 After a single by freshman Elizabeth Hoeymans, catcher Jenna Spille drove in the tying run with a fielder's choice and senior shortstop Shannon Murphy drove in the go-ahead run with a sacrifice fly.
At that point, O'Connell led 4-3 with two outs.
The Knights weren't done.
Sophomore third baseman Leah Hammes smacked an RBI double and Ohanian drew a walk, setting the stage for a three-run homer by Giaquinto.
"I feel like I just got all of it," she said. "I was a little hesitant whether it would go over [the fence] or not, but as I was rounding third base I was tearing up a little bit because it was just so intense. I didn't really remember much when I was at the plate."
Turner singled for a second time in the inning before senior left fielder Erin Sweeney put the finishing touch on the nine-run frame with an RBI single.
Giaquinto finished 3-for-3 with a double, a home run and three RBIs. Hammes and Turner each had two hits.
"Top to bottom, we have as good a lineup as anybody in the area and I like to think that," Orndorff said. "The first 14 games we played great softball. Since then, we have not. … The last week, week-and-a-half we've kind of been in a slump and I think that seventh inning, suddenly we broke out of it. You don't know why those things happen, but it just happened."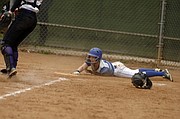 "It was a character check and we passed. I don't know if I've ever had that: a nine-run seventh inning. I've done this a long time, but I haven't seen a nine-run seventh inning."
— O'Connell Softball coach Tommy Orndorff
What can the dramatic win do for O'Connell as the postseason approaches?
"I hope it gets us back to playing the softball we were beforehand," Orndorff said. "For the first 12, 14 games, we were playing great softball. I know we're still winning, but we haven't been impressive doing it. In the loss to Seton, it all showed up."
O'Connell's offensive outburst not only resulted in a dramatic victory, it kept pitcher Ohanian from losing to her former team.
The sophomore right-hander picked up the win, allowing three earned runs and nine hits in seven innings. She walked two and struck out three.
"Before the game in left field … I said this game is more than just a win for me," Ohanian said. "I'm playing for kind of my name, kind of my respect. I want to walk out of here with my head held high. I knew that there was no one I'd rather do it with than all those [O'Connell] girls.
"I think they all had an understanding that this was a really important game for me and so did Coach Tommy, and that's why he let me pitch."
Overshadowed by O'Connell's nine-run seventh inning was the performance of Lake Braddock catcher and Villanova commit Caroline Jones, who went 3-for-4 with a double, a home run and three RBIs.
Jones said she wanted to play well against her former Lake Braddock teammate.
"This was a game that I really wanted," Jones said. "I did really want to hit well. I used to play travel with [Ohanian], I played high school with her and I don't play anything with her anymore. … I wanted to show her that we are a good team, we still can hit …
The Knights handed Lake Braddock its first loss of the season, dropping its record to 11-1. Bruins head coach George Rumore said Hendrix suffered a back injury during the game and the team's No. 2 pitcher was unavailable due to being on an orchestra trip.
"Amanda's back went," Rumore said. "She pulled her back around either the fourth or the fifth [inning]. … She hung in there, but then come the seventh her back was bothering her. I know I'm making excuses, it's just a fact."
Two days later, the Knights lost to St. Mary's Ryken 7-6 in eight innings, dropping O'Connell's record to 17-2.
O'Connell will host Elizabeth Seton at 4 p.m. today. The Knights will travel to face Oakton at 6:30 p.m. on Wednesday, April 29.
"It was a character check and we passed," Orndorff said after the Lake Braddock win. "I don't know if I've ever had that: a nine-run seventh inning. I've done this a long time, but I haven't seen a nine run seventh inning."