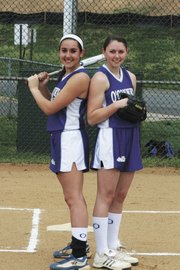 Tori Finucane and Jillian Ferraro led the Bishop O'Connell softball team to the No. 5 ranking in the final 2012 USA Today/NFCA High School Top 25 Poll — the highest ranking in program history. While the duo's contributions aided national team recognition, Finucane and Ferraro's individual accomplishments garnered their own accolades.
Finucane, a junior pitcher, and Ferraro, a junior catcher, were named first-team All-Americans on June 26 by the National Fastpitch Coaches Association. O'Connell was the only program with more than one athlete selected to the first team.
"It's very much deserved." O'Connell head coach Tommy Orndorff said. "They had tremendous seasons."
Finucane, who is committed to the University of Missouri, finished the season with a 27-1 record and a 0.09 ERA en route to Virginia Gatorade Player of the Year honors. The right-handed hurler allowed only two earned runs and walked 22 batters while registering a school-record 332 strikeouts in 161 innings. She ended the season with 99 consecutive scoreless innings and 16 straight shutout victories, including no-hitters in the state tournament semifinals and final.
"I'm very, very surprised," Finucane said of being named an All-American, "and very excited."
One reason behind Finucane's success during the 2012 season was a change in her pitching approach. As a freshman on the Good Counsel softball team, Finucane earned 2010 Washington Catholic Athletic Conference Player of the Year honors while attacking opposing hitters with pitches that moved along the plane of the bat, breaking toward or away from the hitter. The following season, Finucane said a Missouri coach wanted her to focus on throwing pitches that rise or drop, rather than deliveries that move inside or outside. Finucane said she already had the pitches in her repertoire, but spent time refining them.
After starting her sophomore campaign at Good Counsel, Finucane transferred to O'Connell during the 2011 season and had to sit out the remainder of the year. As a junior, she spent the 2012 season mowing down opponents.
"[I worked] the whole year on those pitches specifically so they broke a lot better," Finucane said, "and it made for better games for me."
While Finucane shut down opponents from the pitcher's circle, Ferraro punished them from the batter's box. The University of North Carolina commit batted .542, set a school record with 55 RBIs and tied her own school record with eight home runs. She finished with a .969 slugging percentage and made it through the entire season without striking out.
"She's probably the best stick in the D.C. metro area," Orndorff said, "and one of the most feared hitters — if not the most feared hitter — in the D.C. metro area."
Ferraro played in the outfield as a freshman and played both shortstop and outfield as a sophomore, earning first-team All-Met honors from the Washington Post each season. She returned to her familiar position of catcher as a junior — a move Ferraro said helped her relax and focus on her offensive production.
"It feels really good. It's definitely rewarding," Ferraro said of being named an All-American. "It's nice to win it with Tori. She's a really good friend of mine."
While the two are close off the field, Ferraro said her familiarity with Finucane also helps the duo on the field.
"We work together really well," Ferraro said. "We have a good pitcher-catcher bond. … [Finucane] never brags or claims to be anything big. She's just a normal kid who happens to be one of best pitchers in the country."
Orndorff said Finucane and Ferraro produced the best statistics he has seen in 27 years as O'Connell head coach.
"Both of them possess the passion to play," the coach said. "They're competitors."
Finucane and Ferraro helped guide O'Connell to a 27-1 record during the 2012 campaign, the program's ninth consecutive WCAC championship and 17th state championship in the 19 years the Knights have competed in the VISSA state tournament. Each athlete received first-team All-Met honors from the Washington Post. While Finucane and Ferraro have one more year of high school softball remaining, neither plans to rest on her laurels.
"They play with passion and they have a love of the game, and those two qualities are very hard to find," Orndorff said. "A lot of people have the skill set and abilities, but they don't play for the right reasons."