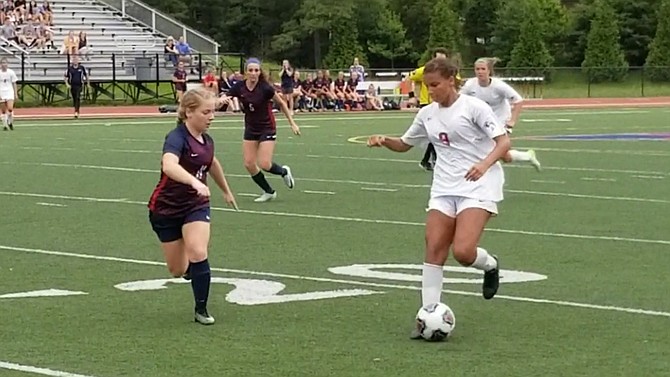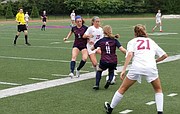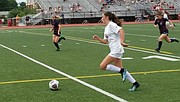 The T.C. Williams girls' soccer team fell one win short of its goal of reaching the state tournament for the second time in three seasons, losing to Woodson 2-0 on May 30 in the Region 6C semifinals.
The Titans entered the match having lost just once during the regular season, scoring at least five goals on more than 10 occasions. But the Cavaliers focused on containing T.C. standouts Claire Constant and Bella Ponzi and held the Titans without a goal.
T.C. had plenty of opportunities, but some clutch saves by goalkeeper Jordan Silkowitz left the Titans on the losing end of a 2-0 score.
"We couldn't finish," head coach Ally Wagner said. "Their keeper is — I haven't seen another keeper like that since I've been at TC. We just couldn't finish. It was just really tough on us. We had some good opportunities, we just got very unlucky. …They were just all over Claire Constant. They put a lot of pressure on our forwards. We barely could touch the ball without someone just being right there on them."
Woodson went on to beat South County in the region championship game and defeat Chantilly in the state quarterfinals. The Cavaliers will play in the state semifinals on Friday.
"We wanted to make sure 9 (Constant) and 20 (Ponzi) didn't run around the field," Woodson head coach Warren Williams said. "You're not going to stop players like that, but they didn't score, so for us that's a pretty good night."
While the Titans fell short of states, Wagner said she was proud of the team's accomplishments.
T.C. Williams finished with a 16-2 record and won the Gunston District championship. Seniors Constant and Ponzi, junior forward Caroline Bates and freshman defender Megan Munson received first-team all-region honors. Constant (Virginia) and Ponzi (Georgia) will play Division I soccer.
"[Constant and Ponzi] meant so much to our program," Wagner said. "It's just so sad that they're going to be gone. They've really made a mark on TC soccer and…they definitely brought our level of soccer to a higher level…and really made a name for us."
Several talented Titans are expected back next season, including Bates, Munson and sophomore midfielder Caley Zack.
"I'm impressed," Wagner said. "We had a lot of young players this year who really rose to the occasion. Both of our center backs were freshmen. I have very high hopes for the future for us. I'm proud we made it this far."