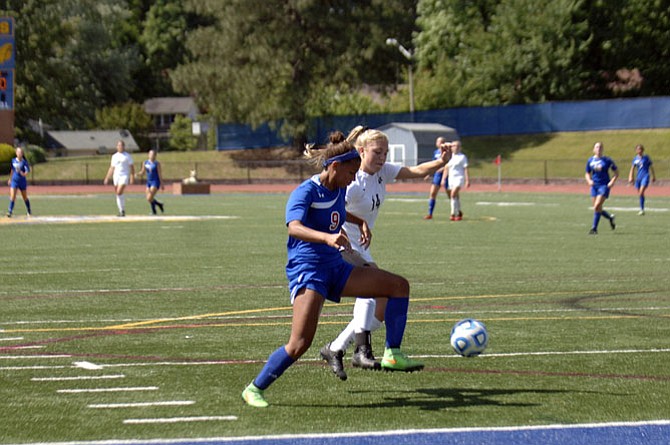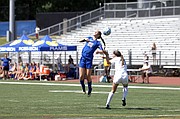 Members of the T.C. Williams girls' soccer team got together early in the spring season and discussed their goals during a team dinner.
The Titans' long-term goal: advance to the state tournament.
After 19 victories, a conference championship and a trip to the region final, T.C. Williams arrived at states on June 10 for a morning matchup with Cox in the semifinals.
When the game was over, TC was proud of its season. But the Titans were also a frustrated group, left to wonder how in the world they didn't win.
Cox defeated T.C. Williams 1-0 on Friday in the 6A state semifinals at Robinson Secondary School. The Falcons advanced to the championship game, where they lost to Battlefield 4-0 on Saturday. It was the Bobcats' third consecutive state title.
On Friday, Cox scored on a corner kick in the 31st minute, capitalizing on one of its few opportunities. T.C. Williams spent most of the match controlling the run of play, but the Titans couldn't put one in the net. TC out-shot Cox 28-5, but due to some combination of bad luck and a stellar performance by Falcons goalkeeper Maddie Arndt, the Titans were left with a zero on the scoreboard.
TC was awarded a penalty kick in the 77th minute, but Arndt saved the PK, diving to her right to stop the shot.
"I'm happy with how we played," senior defender Philomena Fitzgerald said. "I'm definitely disappointed with the outcome. It just came to finishing and putting one in and we couldn't do that today. ... Their keeper is very, very good. We were able to break down their defense a lot and split them a lot and get shots off, but their keeper was just very good today."
In one sequence late in the first half, a TC shot from outside the 18 hit the post, and then two subsequent Titan shots in the box were saved by Arndt.
TC's previous game, a 2-0 loss to Battlefield on June 3 in the 6A North region championship game, included several opportunities for the Titans that they weren't able to turn into goals.
"I think their keeper was great — especially that PK save, that was amazing — but we just didn't put it in the back of the net," sophomore forward Claire Constant said. "That's what it comes down to — putting it in the back of the net. We didn't do it against Battlefield and we didn't do it now ..."
TC ended its season with a 19-4 record. The Titans won the first conference championship in program history, beating Woodson 4-1 in the Conference 7 tournament final on May 20, and also qualified for their first state tournament.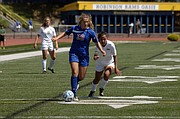 "This game was disappointing, but overall I'm super proud of all my teammates," senior defender Hannah Bates said. "This was the best season TC soccer has ever had, bar none. We got on the banner ..."
T.C. Williams opened the region tournament by defeating Chantilly 1-1 (10-9) in an 11-round PK shootout. The Titans defeated Patriot 1-0 in the quarterfinals and secured a state berth by beating Oakton 2-0 in the semifinals.
"I couldn't be more proud of them," said head coach Ally Wagner, a 2004 T.C. Williams graduate and former Titan soccer player. "They just put TC on the map. [At] the beginning of the season, we had a team dinner and we talked about our long-term goals and our short-term goals. Our long-term goal was to go to states. It was just such a cool thing for them to experience: setting a goal like that and then actually accomplishing it, especially when it's a huge difference from where our program's been in the past."
TC will graduate double-digit seniors. Constant, freshman forward Caroline Bates, junior goalkeeper Savannah Richardson, sophomore midfielder Bella Ponzi sophomore midfielder Izzy Diz and sophomore forward Kaily Kocot would be among the Titans' top returning athletes, if they decide to play for TC next season.
What does it feel like to be part of this T.C. Williams girls' soccer team?
"It's honestly amazing," Constant said. "People in school recognize us and they say 'Hi' to me now, or 'Good game' [or] 'When's the game?' And that's just an amazing feeling."