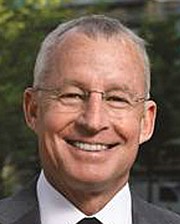 Americans for the Arts, the nation's leading nonprofit organization for advancing the arts and arts education, announced that Prospective, Inc. has been named a BCA 10: Best Businesses Partnering with the Arts in America honoree for 2015.
Prospective, Inc. has worked on large-scale mixed-use developments in Fairfax County for over 30 years. Principal Joseph L. Ritchey and his company have had a profound impact in the development of Reston and its internationally recognized urban mixed-use downtown area — the Reston Town Center. The thriving arts scene in Reston Town Center is part of Prospective's brand and integrated into marketing and business development activities. Ritchey believes that the arts can transform virtually all components of the built environment.
Ritchey has supported the arts since its inception in 1992 donating over $1.1 million to arts-related nonprofit organizations. He is currently serving as chairman on the Board of Directors at the Arts Council of Fairfax County and the Initiative for Public Art – Reston (IPAR). Ritchey founded IPAR in 2007 and his company underwrote IPAR's initial funding and the cost for a consultant team to aid with the creation of the Public Art Master Plan. This resulted in Reston becoming the first non-incorporated jurisdiction in the United States to complete a public art master plan in 2008. The plan is now a part of Fairfax County's Master Development Plan for Reston, and is having a profoundly positive effect on Reston's public spaces and urban center. Ritchey has served on the arts boards of the Greater Reston Arts Center (GRACE), Wolf Trap Foundation, and multiple committees including as Co-Chair on the Fairfax County Master Art Plan Task Force.
Presented every year by the Business Committee for the Arts (BCA), a division of Americans for the Arts, the BCA 10 awards honor ten U.S. companies for their exceptional commitment to the arts through grants, local partnerships, volunteer programs, matching gifts, sponsorships and board membership.