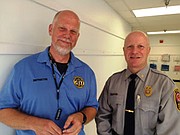 Fairfax County Police officers gathered Monday, June 8, at the Criminal Justice Academy, to listen to the voices in their heads. Each officer wore earphones that emitted a cacophony of seething whispers, spitting remarks, and anxious pleas. The exercise was intended to mimic auditory hallucinations, one of the prevalent symptoms of schizophrenia.
This was the first of many courses being held this week, as officers from around the county worked to gain certification in Crisis Intervention Training (CIT). According to the 2015 Human Services Committee survey, 476 of the 1,336 Fairfax County police officers have completed CIT coursework. The training focuses on how to approach and accommodate those with mental illness — a population that makes up 50 percent of Fairfax County Adult Detention Center inmates, according to the 2013 Sheriff's annual report.

The 20 officers spent 45 minutes sitting at desks, attempting to complete basic activities while listening to the voices and the CIT coordinator Thomas von Hemert. Von Hemert barked orders at the officers, made snide remarks during their progress, and mocked them as they stumbled to answer simple questions. "People with mental illness are treated like they're dumb, they're retarded, they're ignorant, they're disregarded, they're disrespected," von Hemert said afterward. During the session, the officers experienced what it was like to feel helpless.
The activities included simple math, word and puzzle problems, and reading short articles to recite back information. They were also asked to fill out a hospital information sheet, to know exactly how difficult forms can be when distracted by severe mental activity. As time went on, the consistency of correct responses and the confidence of the officers began to waver. One of the last activities was for the class to write down the words to the national anthem. No one could recite the full song. After a few faulty attempts from the students, von Hemert concluded, "Play ball." Onlookers standing beyond the desks broke out in nervous laughter. Most all of the training officers stayed silent.
Around 9:20 a.m. von Hemert instructed the officers to take out their ear buds. Tension eased throughout the room, triggering a change in von Hemert's demeanor as well. His features softened as he apologized, "If I came across as unprofessional, rude, obnoxious, or like a jerk … I hope you don't think that's who I am. Why do you think I took on that persona?"
One officer replied, "Because that's how they're [people with mental illness] are treated."
Yes, people with mental illness are treated like that all the time, von Hemert said, "not just with officers, but with doctors, with nurses, with teachers …. our community treats people with mental illnesses with that kind of disregard and distaste."

Von Hemert asked the officers for feedback on their experience. Officers said they felt physically ill, exhausted and angry. "It made me nauseous," admitted one officer. "I just couldn't function like that," said another. One officer held up his palms, "My heart is still pounding, my hands are still clammy."
Another officer said, "I could almost see myself doing anything to make that stop."
"That was for 45 minutes. Can you imagine having that for hours, for days, for weeks, even years? It's exhausting," said von Hemert.
Von Hemert advised officers to slow their approach down when dealing with a person with mental illness, reminding officers of how hard and frustrating it was to complete the tasks they were given: "So, if you think that you're dealing with somebody with mental illness, and you say 'listen, I need for you to sit over there, fill that form out, give it to that secretary, and bring it back to me' — you lost them."
Von Hemert gave an example of how to verbally approach those in crisis, placing an emphasis on slowing down, "I need you to focus on my voice. I'm here to keep you safe. ... Are you hearing voices? I need you to listen to my voice."
Thomas Gadell, PFC, has worked for the FCPD for 11 years. When asked what he knew about schizophrenia before Crisis Intervention Training, he responded, "Before I went through Crisis Intervention Training, schizophrenia was just a word to describe somebody with mental illness. It didn't really have specific meaning or an understanding that came with it as to what they experience." CIT was "eye-opening. It really gives you a perspective of what they go through and allows you to feel empathetic toward their situation and put yourself in their shoes instead of [schizophrenia being] a word that doesn't mean anything."
The hope is that once officers understand what it is like to be afflicted with these symptoms, they can work better one-on-one with people who show signs of mental illness on the street.
"One step at a time," von Hemert told the officers. "You're looking for success here."