Mental illness is a bigger problem in the U.S. than most people realize, and police come in contact with many people suffering from some form of it. So Fairfax County police officers undergo training to prepare them to deal with these people and make sure they receive the services they need.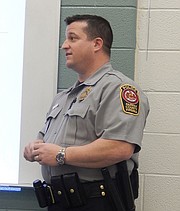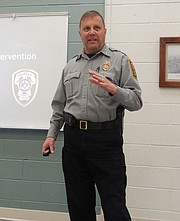 At a recent meeting of the Sully District Station's Citizens Advisory Committee, the topic was crisis intervention. The speakers were Lt. Ryan Morgan, the station's Crisis Intervention Team (CIT) coordinator, and Sgt. Dave Kuhar, a supervisor at the station.
"A lot of guys with low-risk behavior and mental-health problems don't do well in jail," said Morgan. "We try to reduce the stigma of mental illness, but you can't always see the symptoms until they're manifested through actions."
On average, he said, those with mental problems are no more violent than other people. And sometimes, they become victimized in jail because they lack coping skills. Morgan also noted that people with severe mental illness will live about 25 years less, largely due to treatable medical conditions caused by smoking, obesity, substance abuse and inadequate access to medical care.
"An estimated 26.2 percent of U.S. adults 18 and older — about one in four — suffer from a diagnosable mental disorder in a given year," he said. "These include bi-polar disorder, schizophrenia and depression. For example, a divorce or the death of a loved one could put someone in a crisis."
Actually, said Morgan, "Mental disorders are the leading cause of disability in the U.S. for people ages 15-44. As a police department, we're just trying to de-escalate situations quickly and safely." He told the audience that "when criminal activity is happening and you're afraid someone's going to get attacked, call the police. But we also get crisis-stabilization calls that are medical-related; and in those cases, you should ask for a CIT-trained officer."
Morgan teaches eight, 40-hour, crisis-intervention classes a year to other officers, with some 22 officers per class. "They get a background in mental health and a schizophrenia simulation so they understand what it's like to hear voices," he explained. "It's uncomfortable for them to get into a stranger's business, but it's what they have to do to serve the community."
"The state wants 25 percent of the offices trained [in this field], but our chief wants everybody trained," continued Morgan. "Alzheimer's patients fall into this category, too, so they also receive training on it." Kuhar added that stress is "one of those un-diagnosable things," but may also lead to mental problems.
"There are more than 2,200 people identified in the criminal system as suffering from mental illness," he said. "And this number is very much underrepresented. There are 3,200 to 3,500 inmates in Virginia jails on any given day with mental illness — and they regularly have a recidivism rate of 70 percent."
In Fairfax County, said Kuhar, involuntary mental commitments can consume a police officer's entire shift. "And these commitments are often ineffective in getting long-term resolutions. The Adult Detention Center has an average population of 1,050, and about 25 percent have mental illness."
He said a small number of people often account for a large number of calls to the police. And in this county, "The number of mental-health incidents goes up each year," said Kuhar. "So the Crisis Intervention Team educates and prepares officers to come into contact with people in crisis, recognize the signs of mental illness and respond appropriately."
To simulate schizophrenia, he said, "We'll make the officers wear headphones so they 'hear voices' while I'm asking them questions and belittling them. We'll also simulate real-life scenarios to see how the police use their active-listening skills and patience. The objective is to reduce injuries to the officer and the person for a safe outcome for everybody in the community."
Kuhar said the police call-takers and dispatchers take this training, too, but it takes a long time to get everyone trained. "We want officers not just to react, but to slow down and think first," he said. "It goes a long way when dealing with these people. CIT is a way to divert people needing assistance, instead of or before incarcerating them, and officer safety is never jeopardized."
"By no means are we mental-health professionals," said Morgan. "But when we believe someone is a danger to themselves or others, we can take them to receive the help they need." He said the police can take the person to a mental-health center or, if the person has committed a violent crime and is in jail, they'll seek treatment for them there.
"As police officers, we're trying to help a vulnerable population, as best we can, and keep them out of jail," said Morgan. "To house one person in jail for one year costs the taxpayer $67,000. The treatment cost for one year is $2,500 — and that's not pocket change." Basically, he said, "CIF training is about recognizing how that person's feeling, trying to put yourself in their shoes, talking with them and helping them."