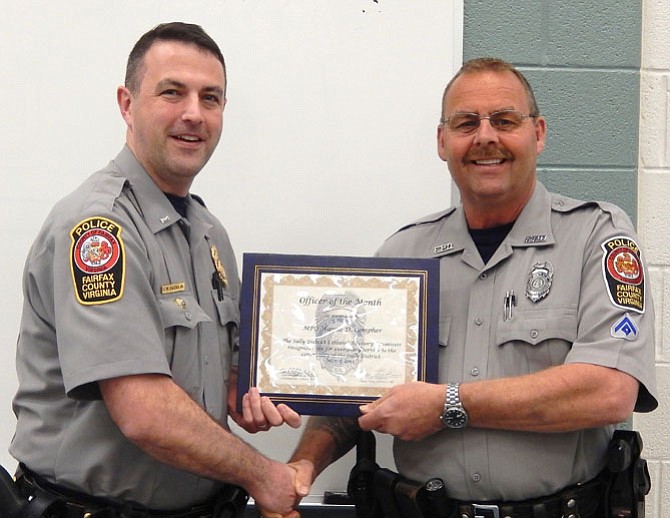 Recently honored as the Officer of the Month by the Sully District Police Station and its Citizens Advisory Committee was MPO Wayne Compher. And according to the station's assistant commander, Lt. Matt Owens, it was something well-deserved.
"He's a hard worker and a well-respected member of the station," said Owens. "Normally, one person nominates someone for Officer of the Month; but he was nominated by his entire squad."
Compher's supervisors, Trafton Parr and Sgt. Brad Avery, submitted the following writeup:
"Master Police Officer Wayne Compher is an informal leader of the Sully Evenings A squad. He has a wealth of knowledge, experience and skills which he readily shares with every squad member on a daily basis. He's actively involved in all of the major cases with the squad and is always willing to assist or take the lead on the various events that present themselves throughout the patrol shift.
"Many times, Compher is the first unit on the scene of events, as he always keeps tabs on the pending events in the district. He never hesitates to self-dispatch on cases, regardless if it's a simple complaint or a complex investigation.
"He's a dedicated officer with an exceptional work ethic. As such, he's an excellent role model for both younger and senior officers. Compher assists with conflict resolution between squad members and entire squads. Whether the conflicts are of a personal or professional nature, they have exceptional outcomes when he assists. He shows he truly cares about the working relationships of his co-workers.

"Compher is also acutely aware of the dangers involved with this career and has no inhibitions about informing co-workers of unsafe conditions, so as to protect them from possible harm. He also shares and encourages a great relationship with the citizens of the Sully District.
"With 34-plus years as a Fairfax County Police Officer, he's an asset to have on the Evenings A Squad at the Sully District Station and the squad genuinely supports his nomination."