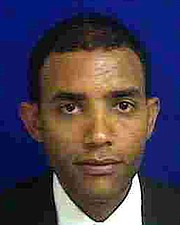 Police Officer Robel Tessema has been recognized as the Officer of the Month for March. He was honored at the April 13 meeting of the Sully District Station's Citizens Advisory Committee. The station's assistant commander, 1st Lt. Matt Owens, presented Tessema with a certificate.
"Even though he has only been on his own since March of 2015, Officer Robel M. Tessema has consistently been a top performer on his squad," wrote Lt. Brian Calfee in his memo nominating Tessema for this honor. "Officer Tessema currently leads his squad in criminal arrests, field contacts and incident reports."
Calfee said the officer recently assisted on a traffic stop where he observed the passenger trying to conceal something. And his sharp eye proved significant. "Tessema's attention resulted in the recovery of two grams of heroin, divided into 20 individual doses [packaged for sale] and the suspect working with OCN [Organized Crime and Narcotics]," wrote Calfee.
Tessema works on the midnight team, and Calfee said he "does a great job every night and is relentless in his patrol efforts. He always writes very detailed reports which recently assisted our domestic violence detective in keeping an offender in jail when his bond motion was denied by the judge."
Overall, wrote Calfee, "Tessema demonstrates great police work and great initiative on his part to learn. He is most deserving of this recognition."