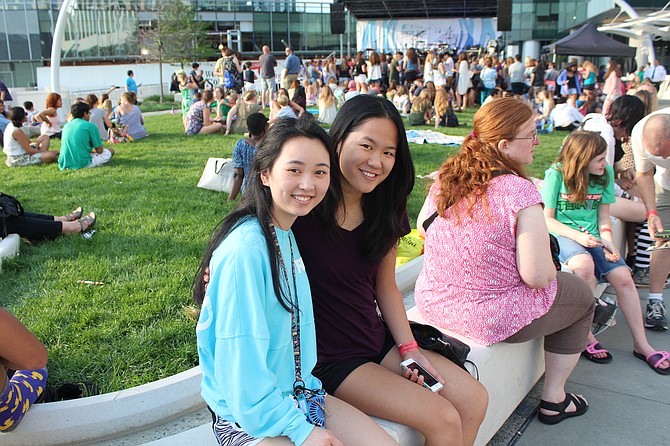 Nick Fradiani and his band Beach Avenue walked on stage to whoops and applause from the watching crowd. Teenagers leaned forward over silver metal barriers waving mini American flags and cheering.
"We used to perform covers of American Authors' songs," Fradiani told the crowd. "Now we're opening for them; it's pretty incredible."
For most of the summer, Maserati is hosting a fresh artist concert series at Tysons Corner Center. Every Friday until Aug. 7, a new artist will perform live. On June 26, radio station 94.7 brought "American Idol" winner Nick Fradiani and his band Beach Avenue to the plaza at Tysons to open for the popular rock band American Authors.
Surrounded by hotels, the shopping mall and outdoor restaurants, the new plaza at Tysons is a popular Friday night attraction for teens and adults. On June 26, the outdoor venue was filled with excited young fans and adults who work in the Tysons area.
Sisters Emma and Hannah Grossman of Vienna have attended the past three Friday concerts at the Tysons plaza. The concerts have featured Parachute, Black Alley and Jakubi.
"These concerts are definitely fun," said Emma Grossman. "It's all about the fresh new artists. I hadn't heard of the band last week, Black Alley, but it's great hearing new music and hanging out."
Entry to each concert is free, but the plaza isn't overly crowded, and the crowds aren't difficult to navigate. Concertgoers are able to casually watch the sound check and see team members set up for the bands.
"It's more low-key than going to a festival, which I really like," said Hannah Grossman.
Around 8 p.m. American Authors ran on stage to the steady beat of a drum; the concert had officially begun. As they struck the first few chords to their opening number, "Home," the crowd immediately began to sway and clap to the beat.
"I had a lot of fun," said 16-year-old Jack Watkins of Herndon. "It's nice to be out listening to live music in such beautiful weather on a Friday night."