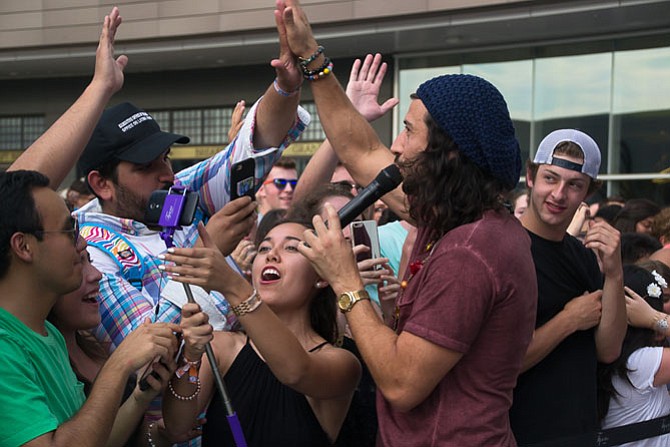 See more MAGIC! photos on Facebook.
This past Friday, as the sun went down, the Canadian reggae fusion band MAGIC! performed for free on the Tyson's Corner Plaza. The band is most-famously known for their hit "Rude," which charted at No.1 in several countries worldwide.
In addition to performing "Rude," the band played a variety of other catchy island-inspired songs, such as "Lay You Down Easy," "Red Dress," and "No Way No."
Friday's concert, just like the other concerts of the 2016 Summerfest Concert series, attracted a diverse crowd. From little children to star-struck teenagers to corporate employees stopping by for a happy hour dance party, fans of all ages rocked out to reggae tunes—despite the 90 degree weather.
Throughout the night, the lead singer, Nasri, walked off stage and sang right in front of concertgoers in the front row. At one point, Nasri momentarily took a fan's phone, using the popular Snapchat app to send a video of the band's cover of Drake's "Hotline Bling".

The relaxed vibe of MAGIC!'s songs was effortlessly echoed through the band's stage-presence. The crowd was charmed by the band's friendly banter between songs, and fans that stayed around post-concert were rewarded with selfies with the band.
Even when their security guard pointed at his watch, eager to get the band members on a plane to Mexico City for their performance the following day, band member Mark Pelli took a few more photos with pleading fans before exiting the stage.
"The concert had great vibes and the band had great chemistry; they kept it entertaining and fun," recent Langley High School graduate Matt Reichenbach commented. "It was nice hearing reggae on a Friday night."
In addition to MAGIC!, the concert series promoted by 94.7 Fresh FM Radio has featured a plethora of big-name artists over the summer, from Rachel Platten to Shawn Hook and Former American Idol Contestants Lee DeWyze, Blake Lewis and Constantine Maroulis.
"It's free, it's close, it's safe — I would definitely recommend the concert series to other McLean residents," University of Virginia student Madeleine Engel said.
Sorry you missed it? It's not too late. Be sure to catch acoustic singer Ingrid Michaelson perform next Friday at 7 p.m. on the Plaza!