Supervisor Michael Frey did not mince words when voicing opposition to Chairman Sharon Bulova's establishment of an ad hoc police commission on Tuesday, March 3.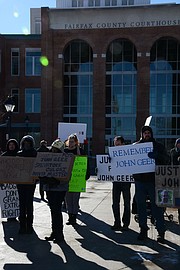 "This is not the time nor the right way to proceed," said Frey (R-Sully).
Bulova's commission will include law enforcement, legal experts, citizens, academics, public information officers, and media.
Fairfax County Police officer Adam D. Torres shot and killed John Geer of Springfield inside the doorway of his own home on Aug. 29, 2013. Police were called following a domestic argument, and spoke with him for more than half an hour while he stood in his doorway, unarmed, with his hands raised and resting on the frame. Geer was shot in the chest and died in his house without receiving medical attention. It took more than 16 months, a $12 million civil suit by Geer's family, intervention by a U.S. senator and a court order to get the first information on the shooting, which came in January when police named Torres.
FAIRFAX COUNTY released more than 10,000 pages of documents about the shooting and the investigation on Jan. 30, 2015, in response to the court order. The documents revealed that four other officers on the scene disagreed with Torres, who said Geer moved his hands rapidly down from his head towards his waist prompting Torres to shoot.
"I think there will be a time to do this, but I think this is after we deal with pending outcome of the Geer case," said Frey on Tuesday.
But that could take years, Bulova said, during Tuesday's Board session.
The commission will review existing policies, practices and programs regarding police-community relations, police-involved incidents and laws regarding the public release of information.
"Our board has been taking a hard look at our policies involving the timing and manner of releasing information in the case of critical police-involved incidents," Bulova said. "This effort can be greatly enhanced by engaging with the community in an open, transparent way."
" I think this is an excellent and right thing to do," said Supervisor John Foust (D-Dranesville).
" I'm real happy to see this review get underway," said Supervisor Pat Herrity (R-Springfield).
Commission Members
POLICE
Det. Sean Corcoran, Fairfax Coalition of Police Local 5000
Det. John Wallace, Fairfax County Police Association
Brad Carruthers, Fairfax Fraternal Order of Police, Lodge 77
Joseph Woloszyn, Southern States Police Benevolent Association
Lt. Gervais Reed, Fairfax Black Law Enforcement Officers Association
Lucy Caldwell, civilian public information officer
Lt. Col Tom Ryan
Maj. Joe Hill (alternate)
Representative from Fairfax County Sheriff's Department
LEGAL
Douglas R. Kay, Fairfax Bar Association president-elect
Bob Ross, former deputy county attorney
U.S. Department of Justice's National Institute of Justice (Invited)
ACADEMIC/CONSULTANT
Robert Kane – Drexel University, Director and Professor, Criminology and Justice Studies Program (Fairfax County resident)
Jack L. Johnson, PricewaterhouseCoopers, public sector practice
MEDIA/PR
Broadcast Media representative (shared seat): Jeff Goldberg, WJLA, Peggy Fox, WUSA9
Mary Kimm, Connection Newspapers
Merni Fitzgerald, former director of public affairs, Board of Supervisors
Representative from the Virginia Coalition for Open Government
CITIZENS
Jeff Stewart, Chantilly
Adrian Steele, McLean
Nicholas Beltrante, Virginia Citizens Coalition for Police Accountability (alternate to be determined)
Tim Thompson, President, Fairfax County Federation of Citizens Associations
Shirley Ginwright, Chairman, Communities of Trust Committee, President, Fairfax County NAACP
COUNTY STAFF (Ex-officio members/supporting roles)
David Rohrer, Deputy County Executive for Public Safety
Tony Castrilli, Director, Office of Public Affairs