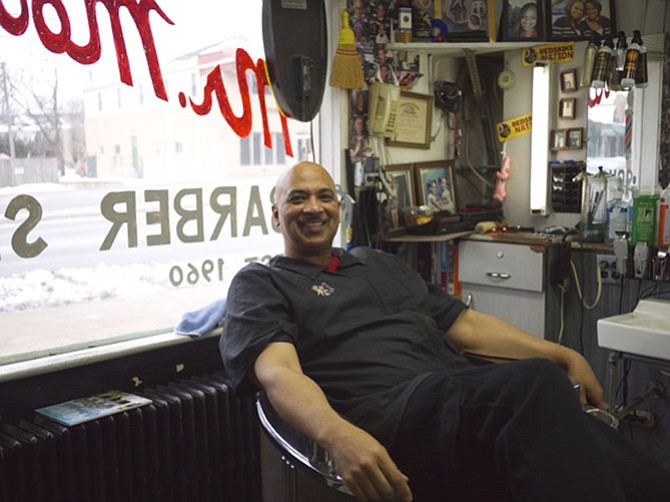 A local resident gets up in the old leatherette chair on a Tuesday morning. As he starts to cut hair, Jim Moore says, "I'm sorry to hear your dad died. He always looked so young." Moore's Barber Shop sits in a low-profile red brick building in the High View Park section of Lee Highway; its hand-painted sign and barber pole reflect the history within. The shop feels like an old country store. For those who have come there for years to get a haircut, hear the latest news, or chat with the owner, it is a look back in time, walls papered with photos of clients, awards and memorabilia from the '60s, a firefighter's helmet, and family photos. There are three old-time barber chairs, with leather strops hanging down, a toy box, and eight chairs lined up against the wall for clients who come as much for conversation as for the haircut. Moore knows them all and asks them about their families or talks about the week's events. He welcomes everyone with the same open smile, and he talks freely about the history of the shop as he cuts hair with his partner Clay Pinson.
His dad came from North Carolina, Samson County, moving to Arlington in 1957 because he had a buddy from barber college who started a shop where the Kentucky Fried Chicken is now, in the Hall's Hill/High View Park neighborhood of North Arlington. His buddy needed a partner because business was brisk. Hall's Hill is one of Arlington's historic African-American neighborhoods. The area had been an antebellum estate. Some current residents are descended from the estate's slave families. Some joined the community in the early 1900s, while others came, like Moore, in the '50s.
Photo Gallery
Mr. Moore's Barber Shop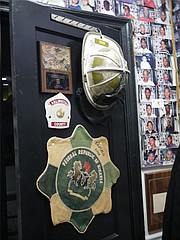 Conversations and Haircuts
Click Photo for Flash
Next door from the shop was Goosby's, a night club where people got stabbed, women of the night got clients, and gambling and drinking went on through the night. The rough people showed up around 6 p.m. The senior Moore had grown up in the country, in an agricultural area where hard work was valued. He decided to make his hours 8 a.m.-6 p.m. so that he could be out of the area when Goosby's opened. The hours of Moore's Barber shop remain the same today. Moore went home to be with his family, even though the regulars at Goosby's chided him about not joining them for some fun after work. He turned them down; another North Carolina belief was that one's reputation was the most important thing one had.
Moore branched off in his own shop in 1960. In those days, barber shops were an all-male bastion, full of vice, but Moore kept a shop which went against the trend of the time: no swearing, no Playboy magazines, no gambling. Then, as now, many local customers were white. Moore was kind to clients and their children, another remnant of his Carolina heritage. "One white lady with two young sons — she was a divorcee — had no one to watch the children while she ran errands or went to work," Moore said. "She would drop off her two boys at dad's barber shop for a few hours, knowing they'd be in a good, safe place." In 2008, when the shop won the James B. Hunter Human Rights Award, she stood up from the audience and acknowledged Moore for his generosity.
In North Arlington at the time, no matter what one did for a living — doctor, lawyer, barber — if you were African-American you lived in Hall's Hill. The doctors just had nicer homes. Everyone knew everyone else, and their reputation. Often, Moore had clients come in who couldn't pay. He gave them haircuts on credit. Moore said his father's beliefs were underlined for him when he saw one client slide from richest to poorest. "He had a construction company, and he had been coming to the shop for many years. He went to Goosby's a lot. He had race cars and the nicest house in Hall's Hill. He lived the fast life, and lost his money gambling, eventually dying penniless. His children paid the price. Although they still live in Hall's Hill, they live in subsidized housing."
Moore's barber shop was not the only black-owned business on Lee Highway: they were all owned by African-Americans. But it was the only one unscathed in the '68 riots. The bicycle shop across the street, the High's where Subway is now, the VW garage on the other side of Columbus were all African-American-owned. There was an A&P on the corner; the ramp for the carts is still there. In those days, no one had cars, so you would take your groceries home in a cart, and the local children used to make tips taking carts home. Segregration was in full swing. When Moore's mother went into labor in the early '60s, despite living across the street from Arlington Hospital, they were refused and had to drive into the District to a hospital. At the end of Culpeper Street and 17th there was a line of demarcation between the white and the black areas of North Arlington. "There are two named streets there that intersect, Albemarle and Culpeper, the only place where you have that in Arlington, because of that wall. You can still see the wall in parts. The country didn't integrate schools until after four black students were allowed into Stratford Junior High in 1959. Other aspects of life in Arlington remained segregated until '72. It was a badge of shame for Arlington County," said Moore.
At age 7, Moore started working in his father's shop, sweeping the floor. He made $7 a week and his father made him put $3.50 in the bank. He got to spend the rest, and was a regular at Miss Allen's Country Store, at Columbus and 19th. She had penny candy and homemade candied apples. Moore said he bought a lot of those apples, making himself popular with friends. "There was a real sense of community around that store. That sense of community is gone. Most people have been priced out of Hall's Hill. Arlington is trying to create community with the "Urban Village" theme of development. That won't bring it back, that just creates a bar-crawling night scene," said Moore.
The barber shop was an exciting place to grow up in. Redskins players used to come in for haircuts, commuting from D.C. to Virginia. The first black Redskin, Bobby Mitchell, got his hair cut there. Moore's father used to go out on the field with the Redskins. Warren Brown, the Washington Post journalist, got his hair cut at Moore's, as did U.S. Ambassador to Fiji, C. Steven McGann. The shop had a tough time in the '70s when the Afro was popular and people let their hair grow. "That's when the 'Shape Up' was born," said Moore. People came in every two weeks to get their Afro shaped up and that kept the business going. Moore's father was a volunteer firefighter at the station in Hall's Hill and Moore continued the tradition, responding to the call at the Pentagon on 9/11.
One recent morning, two clients got to chatting while waiting. They discovered a mutual interest in New Delhi, India, and exchanged emails. "It's like this all the time," said Moore. "People are always meeting someone they haven't seen in years, or leaving the shop having made a connection with someone."