Photo Gallery
Mount Vernon Sports Briefs 03/11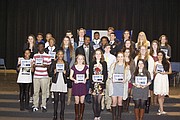 Click Photo for Flash
Mount Vernon's Stevens Places at Track States
Mount Vernon's Alliyah Stevens placed in three events at the 5A state indoor track meet on Monday andTuesday in Hampton.
Stevens placed third in the triple jump (37-8 1/2), fourth in the 55-meter hurdles (8.5) and fifth in the long jump (17-7).
Mount Vernon Gymnasts Reed, Bates Compete at States
Mount Vernon gymnasts Talayna Reed and Jada Bates competed at the VHSL individual state meet on March 8 at Patriot High School.
Reed finished 20th on vault (9.250) and Bates finished 34th on floor (8.65).