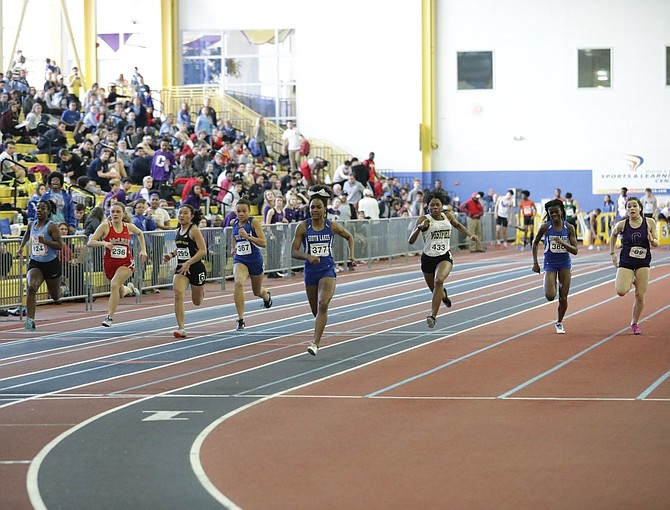 Another Valentine's Day. Another Region title for the South Lakes High School girls indoor track and field team.
Led by junior Hannah Waller's victories in the the 55 meters (7.12), 300 meters (40.09) and long jump (18-11.00), the Lady Seahawks successfully defended their VHSL 6A North Region D indoor track and field championship.
Last year's region championship was the first for the school's girls indoor track program. The girls scored 133 points for this year's title. Washington-Lee was second (67) and George C. Marshall finished third (51.50). The boys team scored 29.50 points for eighth place.
Along with winning three individual events, including a school-record in the long jump, Waller teamed with sophomore Juviannadean Mullings and juniors Emily Lannen and Mary Gregory to win the 4x400 meter relay in a season-best time of 3:59.47.
Gregory successfully defended her title in the 500 meters, winning the event in 1:17.31. She was also second in the 300 meters (41.94). Lannen, who was third in the 1,000 meters (3:05.45), led SLHS to victory in the 4x800 meter relay on the first day of the two day championship. She teamed with senior Isabelle Gulgert and juniors Caitlyn Morris and Sydney Anderson for a winning time of 9:45.10. Morris also finished fourth in the 1,000 meters (3:06.37)
On the boys side, junior Caleb Miller won the shot put (45-06.50).
Other top five individual performances for the SLHS include:
Freshman Jillian Howard second in the 55 meters (7.51) and fourth in the 300 meters (42.59).
Fourth-place finishes by freshman Tyler Benett in the triple jump (41-00.25), sophomore Molly Shapiro in the pole vault (8-00.00), senior Nicole Post in the 55 meter hurdles (8.90), junior Marissa Banga in the 3,200 meters (11:53.66) and the boys 4x200 meter relay team of seniors Nicky Napolitano, Daniel Ezidinma, Stevie Jones and junior Jackson Cooley (1:34.36).
Fifth-place finishes by senior Samantha Van Haaren in the high jump (5-00.00), sophomore Amelia DiBiase in the pole vault (7-06.00), Mullings in the 300 meters (42.67) and the boys 4x400 meter relay team of Cooley, Benett, Jones and junior David Ramirez (3:35.43).
South Lakes will send 21 athletes to compete in the VHSL 6A State Indoor Track and Field Championship Feb. 22-23 at the Boo Williams Sportsplex in Hampton, Virginia.