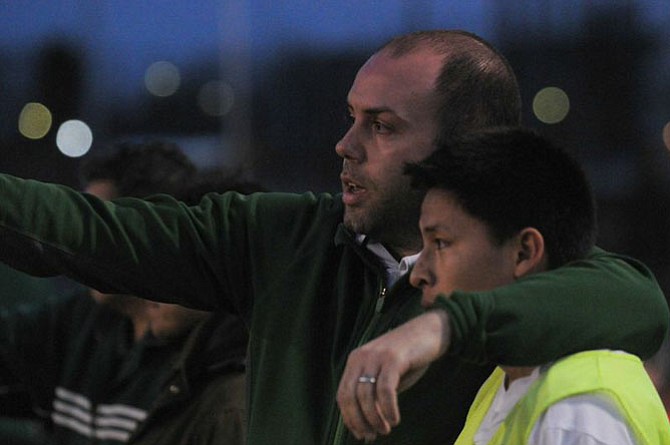 "I still feel confident we can have a very solid team this year. … We just want to go further [than last year]. … We want to win games in the regional [tournament]."
— Wakefield assistant boys' soccer coach Nick Chauvenet
The first two weeks of the season figure to test the mental and physical toughness of the Wakefield boys' soccer team.
For various reasons, multiple talented athletes that Wakefield coaches figured to have on the field are unable to play. Along with a depleted roster, the Warriors scheduled four quality programs to start the year: perennial power Langley; 2014 6A North region semifinalist West Potomac; defending 5A state champion Broad Run; and 2014 6A state runner-up Washington-Lee.
"We scheduled murder's row for these first four games," Wakefield assistant coach Nick Chauvenet said.
The gauntlet started Monday, when Langley traveled to South Arlington. The Saxons took the lead when sophomore striker Jacob Labovitz scored in the 24th minute and Langley cruised to a 3-0 win.
"Reality is you've got to be able to play with a physicality," Chauvenet said, "and we can't right now."
Labovitz scored two goals for the Saxons, and sophomore Sam Golan added one.
"Coming in, we're very optimistic," said Langley head coach Bo Amato, whose team has hopes of competing for the 6A state championship. "… We're young, but we're good."
The Warriors, on the other hand, face a more challenging path while not at full strength. Wakefield reached the 5A Conference 13 championship game last season, but is missing key players this year. The Warriors are hoping for the return of senior midfielder Omar Al-Dulaimi, who suffered a concussion during wrestling season, and senior midfielder Jordi Carcamo Moya, who is academically ineligible.
While Wakefield hopes to return to full strength, senior midfielder John Fuquene and senior defender Alejandro Quinones are leading those who are able to play. Fuquene will play collegiate soccer at William & Mary, while Quinones will play at Drexel.
Next up for Wakefield is a road game against West Potomac at 7 p.m. on Friday, March 20.
"I still feel confident we can have a very solid team this year," Chauvenet said. "… We just want to go further [than last year]. … We want to win games in the regional [tournament]."