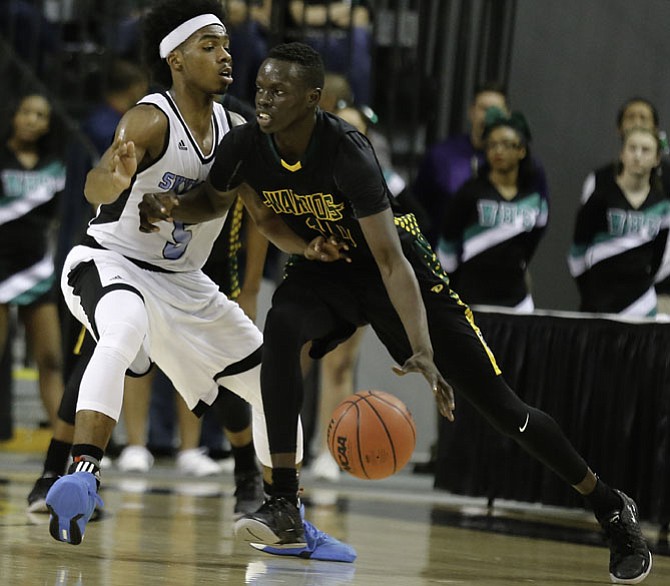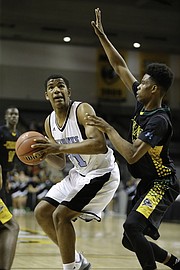 Senior guard Deng Nhial shined in what proved to be his final game for Wakefield, scoring 11 points, dishing out four assists and throwing down a pair of dunks.
Sophomore forward Amari Cooper gave Warrior fans a glimpse into the future, grabbing a team-high 10 rebounds.
For the Wakefield boys' basketball team, there were positive elements to the Warriors' performance during their matchup with L.C. Bird in the 5A state semifinals. However, those elements likely failed to dull the pain of defeat after an ill-timed foul transformed a potential season-extending moment into a teaching moment for the Warriors.
After Wakefield's Halil Parks knocked down a game-tying 3-pointer late in the fourth quarter, one of his teammates committed a foul in order to stop the clock, not realizing the score was tied. L.C. Bird capitalized by making a pair of free throws, the Warriors committed a turnover and the Skyhawks held on to win 54-51 on March 8 at VCU.
Parks' 3-pointer tied the score at 49, but his teammate quickly fouled with 17 seconds remaining and the Warriors didn't recover.
"You hate to put a game on one kid," Wakefield head coach Tony Bentley said. "Like I told the kids all year long, it's 'Us,' always. It's about us. He made a mistake. He didn't know the situation and he made a mistake. ... We drew up a play that Halil Parks has hit time and time again and he came through for us in the clutch. We're looking at the clock and 17 seconds away from playing in the big game or at least trying to get a stop and overtime, whatever it may be, and he didn't know the situation and he made a mistake."
What did Wakefield captain Alan Treakle handle his teammate's mishap?
"That's my brother," Treakle said, "so I've got to be there for him."While the loss was no doubt disappointing for Wakefield, there were positive elements to the defeat for the Warriors.
Nhial, a team captain and one of just two returning Warriors who received significant playing time the year before, had a strong performance in his final game for the Warriors.
"It was definitely a great run," Nhial said. "The team that we put together this season was incredible. ... [N]obody chose for us to be here, so we decided, you know what, we're just going to step up to the plate and we're going to shock a lot of people. Even though we didn't come up on top, I still believe we did."
Cooper, who moved to the area from South Carolina, showed fans, coaches and teammates his toughness in the paint.
"I like the fact that he's on my team," Bentley said. "We talked to him earlier in the year about smiling more and playing with passion. He was putting so much pressure on himself. About two or three weeks ago, he just started smiling more, started playing more, started to be the jokester in the locker room. We moved him to the starting lineup for the [state quarterfinals] and he responded. Tonight, if we don't have some colleges starting to take some interest in this kid, something's wrong. He's going to be one heck of a player as he put on display tonight."
The 6-foot-4, 180-pound Cooper flexed his muscles after drawing a foul in the third quarter.
"I started enjoying the game, enjoying being out there and just playing," Cooper said. "I had to realize my role on the team is getting rebounds and if I get points, it comes to me. I just feel like I'm the biggest guy down there when I'm getting all those rebounds."
Treakle, a junior, led Wakefield with 15 points. Parks, a junior, hit four 3-pointers and finished with 12 points.
Wakefield struggled early and trailed 23-14 with 5:24 remaining in the second quarter. The Warriors regrouped, however, closed the quarter on a 16-4 run and led 30-27 at halftime.
"It's one of those games where the coach has been here before but I tell my kids all the time I haven't shot a jumper since 1989 and then some,"
Bentley said. "It's not me. They've got to figure it out. We thought at first maybe the stage was too big for the guys, and then ... we settled down, we called a timeout and we got ourselves back together and then we just wanted to up [the] tempo and just get back to Wakefield basketball."
The Warriors trailed 48-44 with less than a minute remaining, but a bucket by Treakle and Parks' 3-pointer tied the score at 49.
Wakefield finished the season with a 25-3 record, won the Conference 13 championship — the program's fourth consecutive conference/district title — and lost to Potomac in the 5A North region tournament final.
Wakefield will graduate six seniors, including Nhial and guards Eric Martin and Jonathan Adams, who each saw significant playing time. The Warriors figure to return Treakle, Parks, Cooper and others.
"We started the season off with our motto being 'get with the program' because we did have four guys transfer in, so we wanted them to understand the Wakefield way and how we do things," Bentley said, "and the kids found out very early how we do things and they really became a family and just bonded. ... I heard Alan grab Amari coming down the hallway and said, 'We're OK, we're going to be back here."