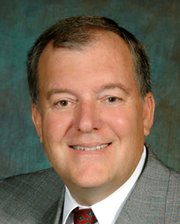 Sully Planning Commissioner John Litzenberger has announced his candidacy for the Sully District Supervisor position on the Fairfax County Board of Supervisors. The position is being vacated by Sully Supervisor Michael Frey, who is retiring after 24 years of service.
Litzenberger has served as the District Planning Commissioner under Frey for the past eight years. Before that, he served as his Housing Authority commissioner for four years.
If elected, he said he would focus on bringing more businesses to the county to broaden the tax base. This would result in an increase in tax revenues without raising the real estate tax rate. He feels a consistent tax rate is instrumental in keeping businesses from relocating to other jurisdictions.
While serving as the Planning Commissioner, Litzenberger worked with the business community, the county staff and Frey to bring a variety of improvements to the Sully District including athletic fields for youth sports and the high schools, along with additional donations of land and facilities for the county parks.
He also helped negotiate road improvements for the community in the immediate areas of commercial and residential development. All this has resulted in over $10 million worth of donated improvements for the community.
As a 35-year resident of Centreville, Litzenberger has served on a number of community committees, including the education and land use committees of the West Fairfax County Citizens Association; as the chairman of the Trustees, Finance and Building Committees of the Centreville United Methodist Church; and as a youth sports and high school lacrosse coach from 1991 to 2008. He was the 1986 Lord Fairfax Award recipient and the 2007 Sully Volunteer of the Year for Celebrate Fairfax.
He is a retired Air Force pilot who flew transport aircraft and was a senior officer. He started his own aviation business.