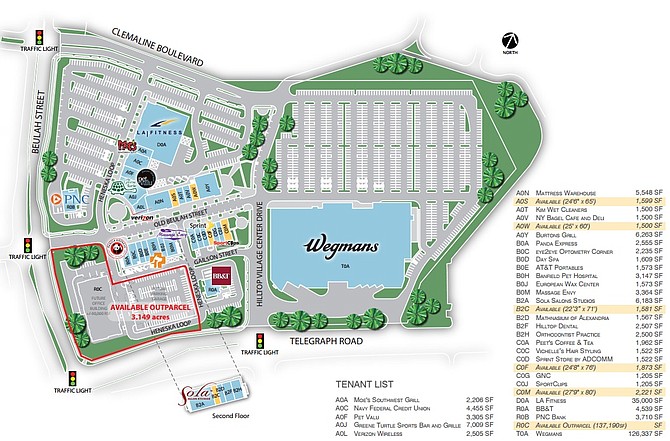 GSA Warehouse
6808 Loisdale Road, Building A
The large warehouse off Loisdale Road in Springfield is in the running to become the new headquarters of the FBI. The building, owned by the General Services Administration (GSA) is competing with sites in Greenbelt and Landover.
Corridor study of Van Dorn Street
From Kingstowne to Alexandria city
Supervisor Jeff McKay (D-Lee) is interested in tapping into an Alexandria study of the corridor, extending it to Kingstowne, and potentially bringing a bus rapid transit system to Van Dorn.
Bonefish Grille parking lot area
5920 Kingstowne Towne Center, Alexandria
The Bonefish parking lot area has been approved for the building of four office structures, including a special exception to allow for a residential component and ground-level retail. However no detailed plans have been provided. The mix of condos, apartments and age-restricted housing has gone through rezoning but is still in very early stages.
Liberty View
13.45-acre site near Beulah Street and the Fairfax County Parkway
This was approved for single family home neighborhoods, four office buildings and fifth structure that would be either a hotel or office building. It was rezoned in 2011 and previous structures have been demolished.
Springfield Town Center
6500 Springfield Mall
Since the Oct. 14, 2014 release of the tenants roster, owner Pennsylvania Real Estate Investment Trust announced there have been over 60,000 square feet of new tenant leases executed at the rebuilt version of what was once called Springfield Mall. Later stages of redevelopment planning for the area include residential, office and hotel space. But their execution will be dictated by the performance of the Springfield Town Center market.
Jennings Toyota and new field
7601 Loisdale Road
The Japanese car brand dealership has already been completed. Part of that construction included a proffer for a new artificial turf field at Loisdale Park. The field is now open to local sports groups after a ribbon-cutting ceremony on April 23.
U-Haul Warehouse
5285 Port Royal Road
U-Haul is looking to take over a previously vacant personal storage facility and repurpose it for a truck rental business. The matter is scheduled for the Planning Commission May 21 and could reach the Board of Supervisors by June 23, possibly opening by the end of 2015.
Wegmans at Hilltop Village Center
Corner of Telegraph Road and Beulah Street
The long-awaited grocery experiencing destination is scheduled to open June 14 at 7 a.m. The 126,000 square-foot store includes a full-service "Pub" bar-restaurant. Though Wegmans isn't known for grand opening celebrations, there will be a kickoff event in September to mark the opening of the entire shopping center.
Sources: Supervisor Jeff McKay (D-Lee) and land use aide, Supervisor Pat Herrity (R-Springfield) land use aide, the office of U.S. Rep. Gerry Connolly (D-11).