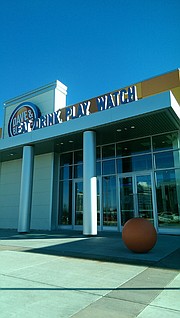 Here is a survey of new and ongoing changes and projects in Springfield:
Bonefish Grille
Parking lot area 5920 Kingstowne Town Center, Alexandria
The Bonefish Grille parking lot area has been approved for the construction of four office structures, but will require an approved request for rezoning to make way for ground-level retail buildings with residential space above. A presentation to the Fairfax County Land Use Committee is expected in the next two months.
Corbet Manor
Subdivision Around 7717 Gambrill Road Seven single-family homes are going into 4.5 acres of what were previously unconsolidated parcels of land. The project has been approved and construction is pending.
Corridor study of Van Dorn Street
From Kingstowne to Alexandria city
Supervisor Jeff McKay (D-Lee) is interested in tapping into an Alexandria study of the corridor, extending it to Kingstowne and potentially bringing a bus rapid transit system to Van Dorn. The County is working with Alexandria to make sure the stretch is part of the conversation.
GSA Warehouse
6808 Loisdale Road, Building A
The large warehouse off Loisdale Road in Springfield continues to be a candidate for home of the new headquarters of the FBI. The building, owned by the General Services Administration (GSA) is competing with sites in Greenbelt and Landover for the highly coveted candidate. Environmental impact statements for the three sites have been completed and the final contract is scheduled to be awarded around fall 2016.
Keene Mill Elementary School Renovation
6310 Bardu Ave
An 18-month renovation of the school includes a two-story addition on the left side of the building in the rear, an addition for administration in the front and an addition for a cafe-kitchen in the rear on the right side. The project is estimated to be finished by summer 2016.
Liberty View
13.45-acre site near Beulah Street and the Fairfax County Parkway
This was approved for single family home neighborhoods, four office buildings and fifth structure that would be either a hotel or office building. It was rezoned in 2011 and previous structures have been demolished.
Park Pointe
Subdivision East side of Gambrill Road, near the Fairfax County Pkwy
Development has started on 18 single-family homes spread across 7.7 acres. Paving should be taking place this spring, weather-permitting.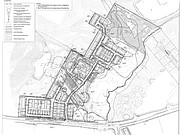 Piney Run by Elm Street
Development Area of Telegraph Road and Piney Run Drive, Alexandria
Demolition of the Hill Top Golf facility is set to begin soon, making way for a 259-unit residential development specifically for individuals 55 and older. When completed, the development should include 32 single family units, 103 townhouses and 124 multi-family condominiums and apartments.
Safford Car Dealerships
Loisdale Road
Following the 2015 opening of Jennings Toyota at 7601 Loisdale and a new artificial turf field at Loisdale Park, Safford Hyundai is scheduled to open in the first quarter of 2016 with Safford Chrysler/Jeep/Dodge/Ram set to follow in the second quarter of 2016.
Springfield Town Center
6500 Springfield Mall
Since January 2015, another 30 shops and restaurants occupying 87,000 square-feet have joined the 1.35 million square-foot retail space of Springfield Town Center, according to owner Pennsylvania Real Estate Investment Trust. Some of the newest tenants include Nordstrom Rack, Francesca's, Finish Line, New York and Co., Wood Ranch BBQ and Grill and Dave and Buster's, which opened Dec. 21, 2015. The renovated shopping destination reopened in October 2014 after years of decline as the Springfield Mall. Later stages of redevelopment planning for the area include residential, office and hotel space. But their execution will be dictated by market performance of the Springfield Town Center market. A release from PREIT said another 73,000 square-feet of space is already committed for 2016.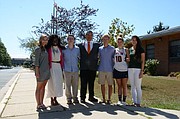 U-Haul Warehouse
5285 Port Royal Road
U-Haul is repurposing a previously vacant personal storage facility for a truck rental business. The Board of Supervisors approved amending the zoning ordinance and special exception application in its June 23 meeting. All permits have been granted and construction is underway.
West Springfield High School
6100 Rolling Road
Renovation construction is scheduled to begin in May 2016 and take three and a half to four years to complete, according to Fairfax County Public Schools Design and Construction Capital Projects Coordinator Brady Rauch. The renovation will include upgrades to windows, flooring, HVAC, power and lighting of the current structure, and additions for music, science, library and administration. Cost is estimated in the Capital Improvement Program at $82,958,090.
Sources: Supervisor Jeff McKay (D-Lee) and land use aide, Supervisor Pat Herrity (R-Springfield) and land use aide, Supervisor John Cook (R-Braddock) and land use aide.