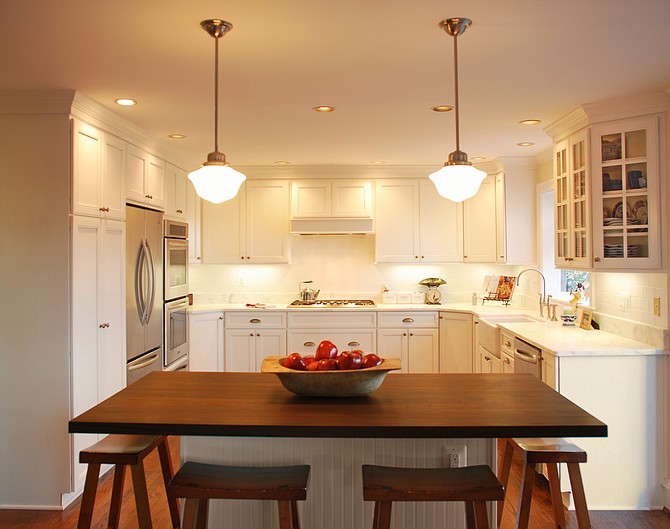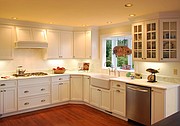 When an Arlington couple decided to update their kitchen, they wanted the clean look of white cabinets and countertops without sacrificing warmth and durability. They also needed a space that would accommodate their penchant for entertaining.
The couple hired architectural designer Stephanie Brick of Nicely Done Kitchens and Baths in Springfield, who decided that gutting and redesigning the cramped space was the best approach.
The team encountered hurdles as they began the transformation. "The couple needed to incorporate seating for four, while keeping the space open to moving around the space easy and free flowing," said Brick. "The kitchen originally had a peninsula, which blocked flow."
The design team resolved the challenge by adding a walnut topped island which blends seamlessly with the space's hardwood floors. "An island provides an entrance to the kitchen from both sides," said Brick. "Seating for four is now very comfortable, and entertaining has become a pleasure because everyone gathers around the island."
The countertops are made of honed Carrara marble, which create a crisp, polished look while maintaining a touch of practicality. "A permanent
 seal on the marble allows the homeowners to use their kitchen without worrying [about] stains," said Brick.
An oversized farm sink is nestled under a large window with a view of the landscaped backyard. "In the end, the homeowners got the clean, crisp designer kitchen of their dreams," said Brick.