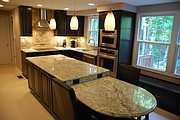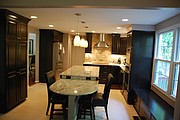 Local designers recently took three Virginia kitchens in need of an overhaul and reimagined them to create spaces that are both spacious and elegant. Keeping with the open concept trend, the kitchens flow into the rest of their homes and allow cooks to prepare meals while mingling with friends and family.
When a Springfield couple decided that it was time to bring their 1960s kitchen into the 21st century, they enlisted the help of Stephanie Brick of Nicely Done Kitchens and Baths also in Springfield.

"The original space was confined to a small kitchen box in the back of their house," said Brick, who relocated the kitchen to another part of the house in order to make the room larger, free-flowing and better suited for entertaining. It includes an island with bar-height seating, allowing the couple to prepare meals while enjoying the company of their guests.
The bold, contrasting colors of red, white and black cabinetry, accented by stainless steel appliances and fixtures, create a modern, European design.
Brick also transformed a cramped Burke kitchen with a U-shaped design that separated the food-prep room from the rest of the home into a warm and open space.
The kitchen includes dark cabinetry made from alder wood, which is contrasted against light granite countertops. "We eliminated the peninsula and the low-hanging cabinets above it and were able to open up the kitchen to the rest of the home," said Brick.
Instead of including a separate kitchen table, the Nicely design team modified the height of the end of the island for standard chair-height seating. "This family can now work, eat, and enjoy company without the restrictive barriers of their past kitchen," said Brick.
Together with Evelyn Nicely, Brick co-designed a free-flowing, bright white kitchen with clean lines in Arlington. White Carrera marble counters and white cabinetry, along with recessed and natural lighting from an over-the-sink window combine to create an airy space. Guests and family members can mingle with the cook while gathered around a walnut butcher block-topped island. "[It] invites them to join in the kitchen preparations without being underfoot," said Nicely.