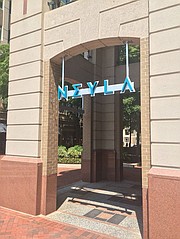 Neyla, the new Mediterranean restaurant in the former Paolo's space at Reston Town Center, plans to open this week, said restaurant management. The general manager will be Souheil Moussadik. The restaurant takes the location of Paolo's, one of the Reston Town Center's longest restaurant tenants which operated there for 24 years. Paolo's closed in early April.
"Chef Erich von Gehren is developing an authentic Eastern Mediterranean menu. Chef von Gehren, has over 25 years of experience working both in the Eastern Mediterranean region and America," said Moussadik.
Von Gehren has worked with Capital Restaurant Concepts since 1987. He learned Mediterranean cuisine while living in Lebanon, where he helped CRC founder and chairman Bechara Nammour open more than 10 restaurants. Thomas Gregg, CEO of Capitol Restaurant Concepts said Reston Town Center did not have a restaurant that offers eastern Mediterranean dishes.
Capital Restaurant Concepts owns Paolo's and other Washington-area restaurants including Old Glory Barbecue and Georgia Brown's. It also owned the former Neyla, located in Georgetown before closing it in August 2014. Paolo's Ristorante at Georgetown remains open.
Capital Restaurant Concepts employs more than 700 people, making it one of the largest restaurant employers in the area. The change is a restructuring move for Capital Restaurant Concepts, which has been in operation for more 30 years.
Washington, D.C., restaurant architecture and design firm HapstakDemetriou remodeled the Paolo's Ristorante at Reston Town Center into the new Neyla Mediterranean Bistro.
Moussadik says the new Neyla will have a casual, elegant ambiance.
Over the past weeks, social media accounts for the Neyla restaurant have been providing updates on the cuisine and opening date. Menu dishes will include mezze (small plates) and a regular menu. Dishes will include flatbreads, salads, lamb chops, falafel and shwarma. The restaurant will also have a cocktail lounge.