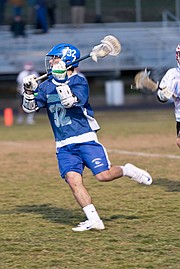 Churchill Boys' Lax To Host Region Final
The Churchill boys' lacrosse team survived a semifinal scare from Whitman.
The Bulldogs, who beat Whitman 12-3 during the regular season, edged the Vikings 12-11 in double overtime on Monday during the 4A/3A West semifinals at Churchill High School.
Churchill advances to the region championship game for the fourth consecutive season. The Bulldogs (15-1) will host Quince Orchard (14-2) at 7 p.m. on Wednesday, May 13.
Churchill is the top seed from Section I and QO is the top seed from Section II.
The Bulldogs defeated Quince Orchard 14-10 in the regular-season finale.
Quince Orchard defeated Wootton 10-9 in the other semifinal contest on Monday.
Whitman Girls' Lax to Host Wootton in Region Final
Whitman and Wootton will face off in the 4A/3A West region championship game at 6 p.m. on Monday, May 13, at Whitman High School.
Whitman defeated Churchill 9-7 in Monday's semifinal. Wootton beat Gaithersburg 10-8.
Whitman Baseball To Face Blair in Semis
The Whitman baseball team defeated Bethesda-Chevy Chase 10-4on Monday in the 4A West quarterfinals on Monday. The Vikings will travel to face top-seeded Montgomery Blair at 7 p.m. on Wednesday, May 13, in the semifinals.