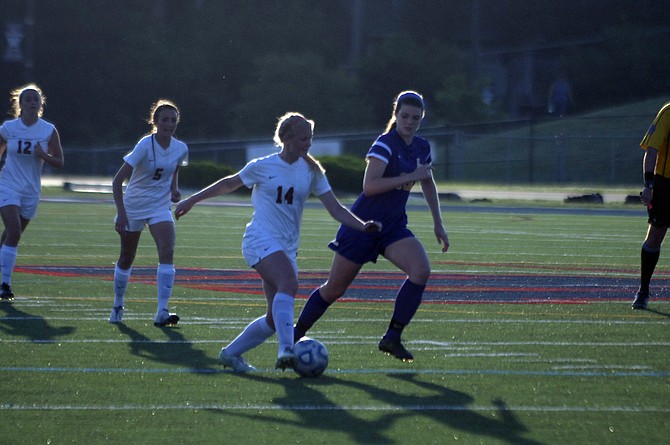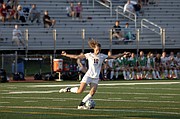 When it comes to set pieces, Woodson girls' soccer head coach Warren Williams has faith in a freshman.
When it comes to goal scoring, a junior has taken the lead for the Cavaliers.
Those two girls happen to be sisters, and on Tuesday, Faith and Natalie Stynchula played significant roles in helping the Cavaliers clinch a berth in the Conference 7 tournament final.
Faith Stynchula assisted Jillian Barnard's first-half goal and Natalie Stynchula added an insurance goal in the second half as No. 2 seed Woodson defeated No. 3 Lake Braddock 2-1 in the conference semifinals on May 19 at Woodson High School.
The Cavaliers will travel to face top-seed South County in the conference championship match on Thursday, May 21.
"I think we did a great job," Natalie Stynchula said. "We were all working together, as usual ­­­ connecting our passes, getting it out wide. It was a great effort for our team."
Natalie Stynchula, a junior forward, scored her team-leading 15th goal in the 47th minute, extending Woodson's lead to 2-0.
"The kid's got a nose for the goal," Williams said. "She finds the back of the net consistently. ... She gets half a step and she's willing to take that chance and that's what you want your goal-scorer to do."
In the first half, Barnard, a senior midfielder, got Woodson on the board with a goal in the 26th minute, finishing a free kick from Faith Stynchula.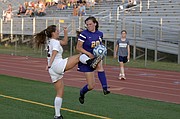 "Jillian made the right back­post run and just finished it off," Williams said. "She's a left­footed kid and we've been on her all year use that right foot. She just placed it right in and you can't ask for anything more than that."
Faith Stynchula is the Cavaliers' catalyst during corner kicks. Williams has faith the freshman defender will put the ball where it needs to be.
"The biggest thing when you have a kid taking set pieces is you want them to be consistent," Williams said, "and I know where she's going to serve every ball consistently, and that's all you want from a set piece. Now I can run my set pieces off of where she's going to place the ball."
Lake Braddock junior Ellie Weber scored a goal in the 52nd minute.
"Their No. 20 [is] phenomenal," Williams said about Weber. "She can play for me any day of the week. She's just an outstanding player."
The victory improved Woodson's record to 12-2-1. The Cavaliers will face South County in the Conference 7 championship match. South County defeated Woodson 1-0 during the regular season.
"I think we're ready," Natalie Stynchula said. "We can definitely handle it. We have a lot of work to do together, but we're building."
Lake Braddock's record dropped to 7-5-3.