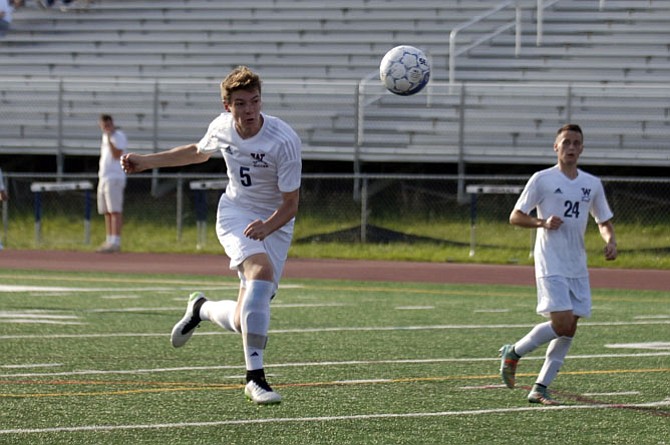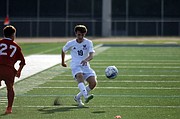 The T.C. Williams boys' soccer team was the aggressor early in Tuesday's Conference 7 tournament semifinal match against Woodson, but had nothing to show for it at halftime.
The defending state champion Titans trailed 1-0 despite spending much of the match's first 20 minutes on the attack. In the 48th minute, however, senior captain Ramsey Benzina took a free kick from the edge of the 18-yard box, blasting the ball over a wall of Woodson defenders and into the net for the equalizer. The goal breathed life into the Titans, who to that point had come up empty on the scoreboard against a strong Woodson back line.
But moments after T.C. Williams had seized momentum, Woodson snatched it right back.
JW Clark's header in the 53rd minute proved to be the winning goal as the No. 2 seed Cavaliers secured a trip to the conference championship match with a 2-1 victory over the No. 3 Titans on May 19 at Woodson High School.
"It's a hot day and [Benzina's goal] kind of got our heads down a little bit because it's never good to get scored on when we have the lead," said Clark, a junior forward. "But our team has spirit. We came out firing. We didn't keep our heads down, we just kept on pushing and we managed to get one in."
Senior defender Matt Todd assisted Clark's goal.
WOODSON WILL HOST No. 4 seed West Potomac in the conference championship match Thursday night.
"We're ready," Clark said. "We're so ready. Coach [Andrew] Peck has done awesome things with this squad. It really feels good to get a win against the defending state champs and that really fires us up for the game."
After Clark's goal put Woodson back on top, the Cavaliers limited the Titans' scoring opportunities. Woodson senior captains Alex Furbank and Connor Werrlein, senior Eric Speer, junior captain and first-team all-conference selection Sean Garin, and Todd contributed along the back line.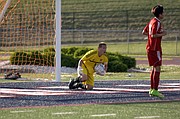 First-team all-conference goalkeeper Brian Breslin made multiple second-half saves.
Woodson held T.C. Williams scoreless during their regular season meeting, a 1-0 Cavalier victory.
"If your back line is consistent and your goalkeeper is on top of his game, it just makes everything so much easier because all you've got to do is finish one ball," first-year Woodson head coach Peck said. "[The Titans] got a free-kick goal. They really didn't have any great opportunities in front of the net because our guys were holding the back line."
Sophomore midfielder Ryan Dagley gave Woodson a 1-0 lead with a goal in the 20th minute.
THE VICTORY improved Woodson's record to 9-5-1 and sets up a conference championship match against a West Potomac program Peck guided within one win of qualifying for the state tournament last season.
The Cavaliers defeated the Wolverines 3-1 during the regular season at West Potomac High School.
"Last year's season was a huge disappointment for [the Cavaliers]," Peck said. "They lost in the first round [of the conference tournament]. Basically, they went from a first-round loss to the finals. They're peaking at the right time."