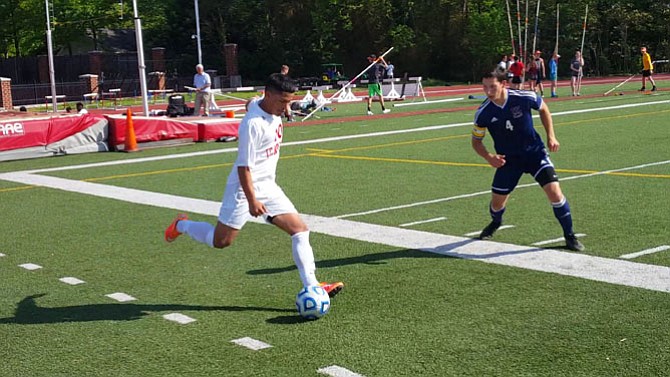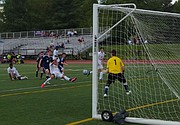 A second-half goal by Jose Bonilla Sosa and a persistent thunderstorm helped the T.C. Williams boys' soccer team secure second place in Conference 7 and left the Woodson Cavaliers wondering what could have been.
Bonilla Sosa's header in the 45th minute — his second goal of the match — gave T.C. Williams the lead and the Titans held on for a 2-1 victory in a weather-shortened contest in Alexandria.
Inclement weather forced teams off the field in the 64th minute with TC leading 2-1. Thirty minutes must pass after the last sign of thunder or lightning before play can resume. About an hour passed before the match was called and the result became official. Darkness was also a factor as
T.C. Williams does not have lights on its field.
With the win, the Titans secured the No. 2 seed in the Conference 7 tournament. Two days later, T.C. Williams defeated West Springfield 4-1, improving its record to 12-1 overall and 6-1 in the conference. TC's lone loss this season came against No. 1 seed and defending conference champion West Potomac.
Woodson fell to 5-7 overall and 4-3 in the conference.
"They were taking it to TC," Woodson head coach Andrew Peck said about the Cavaliers' performance. "[TC] killed everybody else but West Potomac and then we come out here and they're 1-1 for 60 percent of the match and then it gets called. ... This is something to build on."
Bonilla Sosa's first goal gave the Titans a 1-0 lead in the 15th minute. Woodson junior Sam Reeves netted the equalizer in the 35th minute.
"We kind of shot ourselves in the foot, came out flat in the first half," TC head coach Peter Abed said. "It's kind of been a little theme of ours we've got to correct. You can't always just out-play teams, you've got to out-work teams and the West Po game and this game I don't think that happened, and Woodson took advantage. They're a good team, they organize, they play hard and they came at us hard."
Not all of the Titans had an issue with working hard.
"Luckily Jose came to play today," Abed said. "He was playing for the full time."
What makes Bonilla Sosa a dangerous player?
"I think one of his best attributes is his work rate," Abed said. "He's able to get up and down the field at a phenomenal rate. He's all over the place. Today, he really came energized and ready to go. ... He just has ... impeccable timing of when to arrive on the far post for balls coming across, corner kicks, things like that. He just knows exactly when to get there ..."
T.C. Williams will host McLean at 4:30 p.m. on Friday, May 6.
Woodson will host Westfield at 7 p.m. on Friday, May 6.
"The hallmark of a good team is you win when you don't have your best day, for sure," Abed said. "That's something we always preach. We want them to have that mentality of, 'OK, even if we're not playing our best, we can at least work our absolute hardest,' and then no matter what happens you've worked as hard as you possibly can to achieve the result."