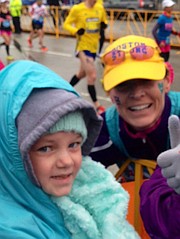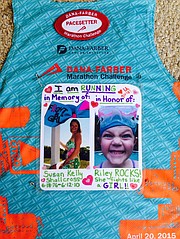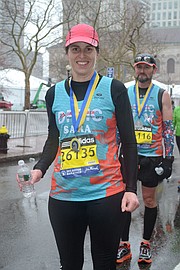 The 119th Boston Marathon may have been a month ago, but the glory has lasted and the endorphins are still pumping for two Centreville women who ran the 26.2-mile course. As part of the 26th Annual Dana-Farber Marathon Challenge (DFMC), Lisa Kelly and Sarah Veley ran to raise money for the Dana Farber Cancer Research Center of Boston, Mass.
Every year, Dana-Farber and the Boston Athletic Association team up to put together a team of runners that raise critical funds to benefit the Claudia Adams Barr Program in Innovative Basic Cancer Research at Dana-Farber Cancer Institute. It is a win-win for both the research center and the race participants, as running the Boston Marathon is an honor. Runners not associated with a charity must qualify with speedy marathon times.
The DFMC was the largest charity group running the Boston Marathon. The fundraising period extends through the summer, so even if the runners haven't reached their goals, they still have a few more months to collect proceeds toward the 2015 DFMC's $5.2 million goal.
Of the nearly 575 runners that comprised the DFMC team, the two Centreville mothers played a major role in the challenge, to make the world one marathon closer to being cancer free.
This was Kelly's third Boston Marathon with the DFMC, and while she ran just shy of her goal time, she raised more than three times more money than her fundraising goal. She said despite the cold rain and wind that came with Marathon Monday, it remains a race for which she is grateful.
"This was my third Boston Marathon with The Dana-Farber Marathon Challenge," Kelly said. "I ran 2013, 2014 and this year. In 2013, I finished about 15 minutes before the bombs went off. I was three blocks past the finish line when we all heard the bombs go off. Thank goodness all my family members and I left Boston unharmed. This year it was cold, rainy and very windy but still a great experience. I finished in three hours and 46 minutes, which was two minutes slower than my goal time."
Kelly's fundraising goal this year was $5,000 and has so far raised more than $18,500. Running in this capacity for the Boston Marathon makes sense for Kelly, as multiple people in her life have been struck by cancer and subsequently been cared for and treated at Dana-Farber. It is the reason she said she began and will intends to continue to run on DFMC teams.
"I am originally from Beverly, Mass. and became involved with Dana-Farber when my sister-in-law, Susan Kelly Shallcross was diagnosed with Stage 3 Colon Cancer at the age of 29," Kelly said. "She was treated at Sloan Kettering Memorial Hospital in New York then treated at Dana-Farber. She battled cancer for four and a half years and sadly passed away on June 12, 2010 at the age of 33 and five days before I gave birth to my third child. So in 2013, I ran in memory of Susan. In 2014, one of my best friend's daughters, Riley Fessenden, got diagnosed with Esthesioneuroblastoma at the age of 6. She is also currently treated at Dana-Farber/Boston Children's Hospital. So in 2014 and 2015 I ran in memory of Susan and in honor of Riley who has been battling cancer for 2 years. Riley was at the Boston Marathon last year and this year waiting for me at Mile 25 with 14 of my friends and family members."
Kelly is no stranger to marathons, having run 12 of them, including the Marine Corps Marathon in Washington D.C. She said she will apply to be a part of the 2016 DFMC team.
"Every year, you have to apply to the Dana-Farber Marathon Challenge and see if you get accepted to the team," she said. "I plan on applying again in 2016 and hopefully I get selected for a fourth year."
While training for a marathon is a physically draining process, a lengthy fundraising accompanies the DFMC runners' training. Kelly said she raised her healthy contribution to Dana-Farber through social media, as well as good old fashioned letter writing and bake sales.
"My fundraising relies heavily on social media through my Facebook and Instagram pages," she said. "This year I also did a bake sale at Giant and a snack bar at my office. I also send out a letter and picture collage to over 100 of my friends and family. People's generosity is amazing."
Veley was brand new to the DFMC at 2015, as this was not only her first Boston Marathon, but also her first marathon. Although she did not run her goal time in her inaugural marathon, she still said she enjoyed the entire process and hopes to take another shot at it one day.
"Participating in the Boston Marathon this year was easily one of the most amazing experiences of my life. It was not only my first Boston, but my first marathon," Veley said. "I had always heard that you should not set a goal time for completing your first marathon, rather just focus on a finish. As much as I tried to do this, the competitor in me always had a goal time in mind. I was hoping to finish about 20 minutes faster than I did, but overall I was happy with the result. It definitely makes me want to do it again some time to try and finish faster."
Regardless of her speed at the Boston Marathon, Veley became part of a family tradition by crossing the finish line. She ran in honor of her beloved late aunt, who was lovingly known as Bullet. Bullet herself had dreamt of running the Boston Marathon.
"My aunt, whom I was very close with, was diagnosed with breast cancer when she was in her late 30s and received treatment at Dana-Farber," Veley said. "When her cancer returned 10 years later, she resumed treatment through Dana-Farber. In 2011, my cousin and his wife ran the Boston Marathon for Dana-Farber in honor of our aunt who at the time was a patient at Dana-Farber. My cousin and his wife ran Boston again for Dana-Farber in 2012, the year our aunt passed away. In those 2 years they managed to raise over $30,000. The following year my aunt's lifelong best friend, Penny, represented 'Boston for Bullet' as a member of the Dana-Farber Marathon Challenge team in memory of our aunt and raised $13,000. Last year Penny's husband Mike took Boston for Bullet to the finish line again raising over $13,000, and this year, I wanted to do it."
Veley, who has so far raised more than $6,000, said her aunt is perhaps the only person who could have motivated her to run the taxing distance, which isn't an easy feat, especially as a mother of two children.
"My aunt and I were very close and very much alike," she said. "I have always loved all things athletic and physical. To me, running a marathon is one of the ultimate athletic feats. There is no other person in the world besides my aunt who could provide enough meaning or motivation for me to finally attempt this feat."
Veley, who hopes to raise $10,500 by the deadline, said the whole marathon weekend was extraordinary, including seeing firsthand exactly where the money she raised will go.
"The Dana-Farber events over the weekend showed directly where our monies go," Veley said. "One hundred percent of all fund raised go to support the Claudia Adams Barr programs for basic cancer research. During marathon weekend we had the opportunity to listen first hand to where our funds go, and the differences they make. At our pre-race pasta party, a doctor spoke to us about the innovative treatments that are in process because of our fundraising. We met children and adults with cancer who are benefitting directly from the treatments funded through our efforts."
The Claudia Adams Barr Program in Innovative Basic Cancer Research was founded by Dana-Farber Trustees Delores Barr Weaver and her husband, Wayne, in 1987 to honor Delores' mother, who died of cancer 30 years previously.
The training started in December of last year and it was a trying four-month process, but Veley said she would definitely be interested in pursuing it again. However, she promised her husband she wouldn't train for another one for at least another year.
"Despite the cold and fatigue I felt during those final miles, when I met my husband back in our hotel room after crossing the finish line, the first thing out of my mouth was, 'That was amazing. I want to do it again,'" she said. "As much as I would love and hope to do it again, I have promised my husband that I will take next year off — at least from a full marathon."
She hasn't written off other race distances or triathlons, though.
The DFMC is still collecting funds; to contribute or to learn more about the program, visit visit www.RunDFMC.org or contact the Dana-Farber Marathon Challenge office at 617-632-1970 or dfmc@dfci.harvard.edu. Follow DFMC on Facebook: www.facebook/marathonchallenge, and on twitter with the hashtag #DFMC.