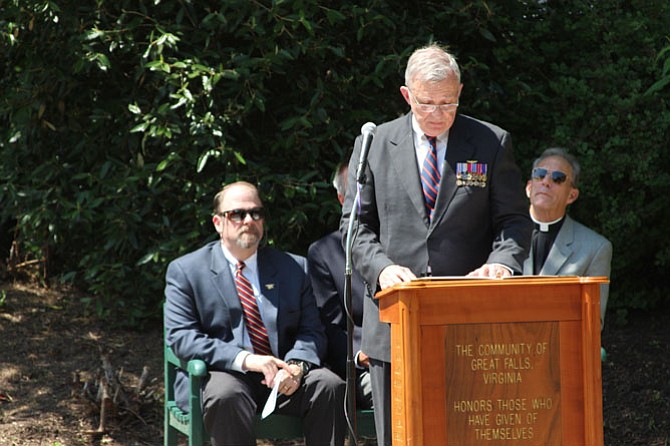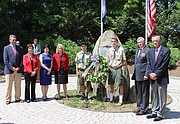 A record number of people attended this year's annual Memorial Day ceremony at the Great Falls Freedom Plaza. The memorial was founded in the years after September 11, 2001 in remembrance of Great Falls residents who died while serving the country.
Remarks were made by Andy Wilson, president of the Friends of the Great Falls Freedom Memorial, Pastor John Bradford, and keynote speaker Lt. Gen. Arthur C. Blades of the United States Marine Corps, who served for 32 years in active duty.
"Those serving today are the best America has to offer," said Lt. Gen. Blades. "Our nation will always remember with deepest gratitude and thankfulness the ultimate sacrifice of those that have given their all for us. And in our prayers and memories, we must never forget the families that were left behind to bear the sorrow and to continue on with their lives after the loss of their loved ones."
In addition to the 25 names of the Great Falls residents who lost their lives in the line of duty, a special dedication was made. A white oak tree now stands in memory of Col. Pete Hilgartner, the founder of the Freedom Memorial, who passed away earlier this year at 87 years old. Next to the tree is a memorial stone that will mark the tree for years to come.
"He loved his country, he loved Great Falls, and he loved his family. He was a Marine's Marine," said Sara Hilgartner about her late husband, Pete. "The ceremony was wonderful, and was meaningful for Pete. He loved it."
Other notable attendants included retired Congressman Frank Wolf, State Sen. Barbara Favola (D-31), Del. Kathleen Murphy (D-34), Board of Supervisors Chairman Sharon Bulova, and Jennifer Chronis, candidate for Dranesville Supervisor.
The Great Falls Freedom Memorial will be the focal point of several more events this year, including being the starting point for the 5K run on July 4, a 9/11 candlelight vigil, and a ceremony on Veteran's Day.