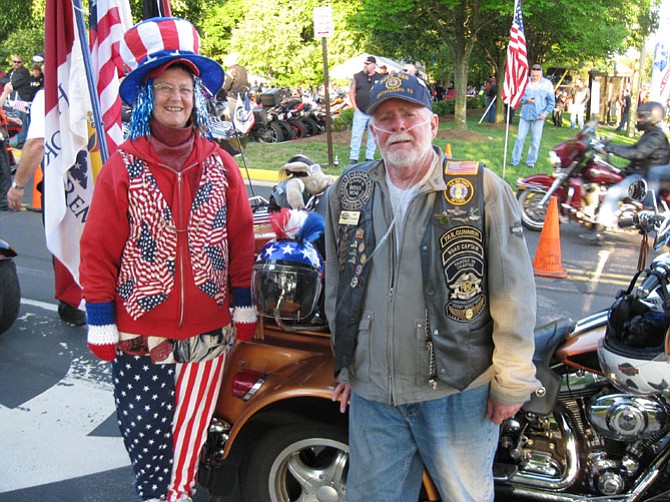 Photo Gallery
Ride of Patriots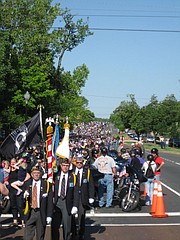 A huge crowd gathers at the start of the procession of the Ride of the Patriots and Rolling Thunder on Sunday, May 24 at Patriot Harley-Davidson on Fairfax Boulevard in the City of Fairfax.
Click Photo for Flash
The 17th Annual Ride of the Patriots attracted as many as 4,000 motorcyclists and local dignitaries over Memorial Day Weekend on Sunday, May 24 at Patriot Harley-Davidson in Fairfax. The riders paid tribute to America's servicemen, women and veterans and helped raise awareness of American POW and MIA soldiers of all wars.
After the ceremony co-sponsored by the Fairfax Harley Owners Group and Patriot Harley-Davidson at Draper Drive and Lee Highway, the parade of bikers followed a route to the Pentagon where it joined with hundreds of thousands of other bikers from around the world for the 28th annual "Rolling Thunder." The group then headed to the National Mall and the Vietnam Veterans' Memorial in the District to pay their respects to their fallen comrades and to remember those who have given their lives for their country.
The Fairfax portion included a demonstration by the Patriot Fairfax Drill Team, a small parade with the Fairfax High School Marching Band and a ceremony with speeches by local dignitaries and politicians, including Bob DeHaven, 17-year owner of Patriot Harley-Davidson; Scott Silverthorne, Mayor of Fairfax; U.S. Rep. Gerry Connolly (D-11); and State Sen. Chap Peterson (D-34).
The keynote speaker was Harley rider and U.S. Navy Capt. David A. Bitonti who has served as Director of Surgical Services at the National Naval Medical Center, as Senior Military Advisor to the Commander, Walter Reed National Military Medical Center, and since 2013 has been in command of Naval Support Activity Bethesda, Md.
Following the ceremony, there was a full police escort of the Ride of the Patriots to the Pentagon by the Fairfax County Motor Squad and units from the City of Fairfax, Fairfax County Sheriff and other local jurisdictions.