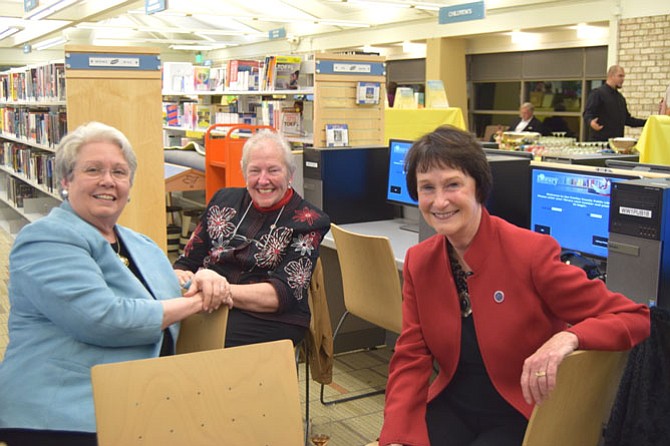 The Fairfax Library Foundation hosted A Library Jubilee! Soiree in the Stacks on Saturday, Oct. 17 at Woodrow Wilson Library in Falls Church. This year, the Foundation raised $197,038 through the Jubilee, with all proceeds going to Fairfax County Public Library. They exceeded their goal of $150,000 in part due to a generous gift from the Estate of Betty Waugh Downard.
"We are grateful to all of our sponsors. Their contributions make our support of the library possible," stated Susan Harman, Executive Director, Fairfax Library Foundation. "Vibrant libraries are essential to the communities that they serve."
The live and silent auctions raised more than $6,000. The program was emceed by Fran Millhouser, Mason District Representative, FCPL, Board of Trustees. Other speakers were Katie Strotman, deputy director, FCPL, Sharon Bulova, Chairman, Board of Supervisors and Penelope A. Gross, Vice Chair and Mason District Supervisor, Board of Supervisors.
Some of the programs supported by A Library Jubilee! include Changing Lives Through Literature, giving first time juvenile offenders an alternative to formal court action, and Ready to Read Early Literacy Outreach, bringing interactive reading experiences to preschool students. During the event, attendees heard a moving description of the Changing Lives Through Literature program from facilitator Amanda Holmes Duffy. She described how the young people in the program learn about their own life challenges through the in-depth study of characters in literature.
Attendees at the Jubilee included members of the Library Friends groups, library supporters and staff, community business leaders and many guests: Chairman Sharon Bulova, Chairman-At-large, Fairfax County Board of Supervisors; Vice Chairman and Supervisor Penelope A. Gross (D-Mason); Supervisor Catherine Hudgins (D-Hunter Mill); FCPS Board Member Patricia Reed (Providence); FCPS Board Member Janie Strauss (Dranesville ); Del. Mark Sickles (D-43); and Fairfax Library Foundation founder Whitney Minkler.
Fairfax Library Foundation raises private, supplementary support for the Fairfax County Public Library – libraries exist with public funds, but private contributions allow libraries to flourish.