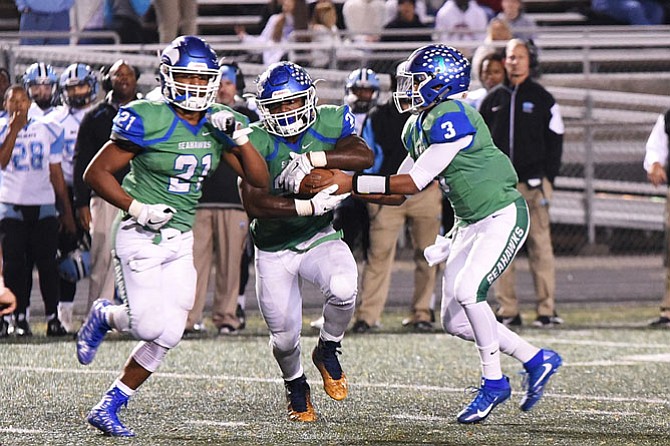 Reston — On a night replete with big plays and swinging emotion, the Virginia 6A North region quarterfinal showdown between South Lakes and Centreville ultimately came down to a two-point conversion.
With less than two minutes to play, it appeared the Seahawks had made an improbable comeback to advance to the region semifinals. After falling behind 14-0, they had scored three unanswered touchdowns. But the Wildcats pulled off a miraculous 75-yard flea-flicker bomb for a score with 1:25 remaining, stunning South Lakes and pulling Centreville to within 22-20.
For the potential game-tying two-point conversion, Wildcats Coach Chris Haddock dialed up more razzle-dazzle. After a delay-of-game penalty pushed the ball back to the seven-yard-line, senior quarterback Jameel Siler pretended to call an audible to his offensive line. Meanwhile, senior running back Julian Garrett took the direct snap from center, ran left, then tossed the ball to senior Rafael Walker, sprinting right. Siler released and broke free in the right corner of the end zone; Walker lofted what appeared to be an accurate pass. But he put a little too much air under it, allowing Seahawks senior defender Sky Lubreski to scramble backward and make a leaping interception just in front of Siler.
"They caught us a little off guard, direct snapping it to the running back," Lubreski said. "I was about to bite on the play, but when I saw the passer coming around to my side, I remembered we had gone over that in practice, and I was supposed to stay with the (quarterback) if he released. I did my job, I let everyone else do their jobs, and it worked out in the end."
Even after Lubreski's game-saving play, it wasn't over. Everybody knew an onside kick was coming, and it was up to South Lakes to recover it. Junior Chris Ezidinma did just that, allowing Coach Trey Taylor to run out the clock and seal the 22-20 win.
THE SEAHAWKS (11-1) now advance to the 6A North region semifinals against Lake Braddock (11-1), which crushed Hayfield 42-0 Friday. The Bruins, featuring University of Virginia-bound running back Lamont Atkins, entered Friday's game as the top-ranked team in the state according to VHSL-Reference.com. Their only loss of the season was to Centreville, 8-7 on September 30.
"To go from 2-8 my sophomore year to the Region semifinals as a senior is just awesome," senior lineman David Kroll said. "I think I'm more tired from jumping around and celebrating than I was from actually playing the game."
Centreville's 75-yard flea-flicker underlined a key decision Coach Taylor had faced on the possession prior. After Coach Haddock called his last timeout with 2:46 to play, the Seahawks faced a third-and-four at the Wildcats' 10-yard line. South Lakes quarterback Devin Miles used a hard count to draw an offside penalty, giving the Seahawks first-and-goal from the Centreville five-yard line. At that point, they could have taken a knee four times, running off most of the clock, and forcing the Wildcats to drive the length of the field to score. Instead, junior running back Albert Mensah rumbled into the end zone on first down with 1:42 to play, putting South Lakes up 22-14—but giving Centreville plenty of time to answer.
"We couldn't have run the clock all the way down, and I didn't want to give (Centreville) a chance to win the game (in regulation)," Coach Taylor said. "We contemplated it. It's a tough call down there."
After Mensah scored, the Wildcats took over at their 25-yard line with 1:37 remaining, and Haddock wasted little time going for it. On first down, sophomore quarterback Presley Egbers threw the long downfield to senior Deonte Edmonds. Two Seahawks defenders went up with Edmonds for the jump ball at the South Lakes 37-yard line, but Edmonds came down with it as both defenders fell to the ground. He then sprinted the remaining 23 yards for a 75-yard touchdown, setting up the dramatic two-point conversion try.
"Two years ago we would have hung our heads after giving up that long touchdown late," Coach Taylor said. "But the kids just keep grinding. That's something we've tried to instill in them, and it's good to see it translate on the field. We tell them that if you never give up, you always have a chance. That's what we did, and I'm very proud of them."
Well into the second half, it seemed as though the Seahawks' season was over. Garrett's 65-yard touchdown run had put Centreville up 14-0 with eight minutes left in the third quarter, and the Wildcats' ball-control wing-T attack controlled the clock and put the pressure on South Lakes to maximize its opportunities.
"I'm sure part of their game plan was to go slow, eat clock, and keep our offense off the field," Coach Taylor said.
Early on, it worked; The Seahawks had just one possession in the first quarter and just four in the first half, and they simply weren't going to have many more chances to score.
In the third quarter, Coach Taylor decided to keep it simple by neutralizing Centreville's defensive speed and ramming Mensah up the middle. He carried seven consecutive times to start South Lakes' first scoring drive, which culminated in a 12-yard play-action touchdown pass to junior running back Spencer Alston with 2:22 to play in the third.
"At halftime, I just decided we needed to run up the middle and pound Albert," Coach Taylor said. "(The Wildcats) were doing a good job of tackling us from behind. Rather than going sideways, we needed to go right at them."
Can you blame Coach Taylor for riding Mensah? In consecutive weeks, The Washington Post named him the Northern Virginia Player of the Week for his play against Fairfax and Oakton.
The Seahawks pulled to within 14-9 after the Centreville quarterback was called for intentional grounding on first-and-10 from its own 10-yard line. Officials ruled he was in the end zone when he threw, resulting in a safety. South Lakes then took the lead on its ensuing drive, one that was kept alive when the Wildcats were called for roughing the passer on second-and-24. A quick slant to senior receiver Andrew Funaki on third-and-seven for 17 yards gave South Lakes a crucial first down, and then the Seahawks went to the play-action again. Miles heaved the ball into the end zone, where Alston out-leaped two Centreville defenders for an amazing highlight-reel 30-yard touchdown catch. Up 15-14 with 7:09 left in the game, Coach Taylor elected to go for two, but Miles' pass was incomplete.
On their next series, the Wildcats converted a third-and-nine when Egbers found Siler deep downfield, setting up first-and-10 from the South Lakes 43-yard line. But on the next play junior defensive back Dave Hagengingma recovered a Centreville fumble, killing the drive and setting up Mensah's late score.
SOUTH LAKES, ranked No. 11 in the Washington Post All-Met Top 20, had 17 first downs to 11 for Centreville, and converted six of 10 third-downs. The Seahawks got a great effort from junior punter Evan Matthes, who bombed a 53-yarder and placed three others deep in Centreville territory. Funaki finished with seven catches for 126 yards, Mensah carried 20 times for 74 yards, receiver Noah Seneca caught four passes for 43 yards, while Alston carried 10 times for 33 yards and added four catches for 40 yards.
Before the game, in DMVStream.com's PrepZone video preview, analysts Jeremy Huber and Brenton Randolph both picked South lakes to win, while Derek Kramer picked Centreville.
"This team, every week in and week out, the second half is when we play our best football," Alston said. "After that big play they had we could have hung our heads and thought the season was over. But this group of guys just wanted it more."