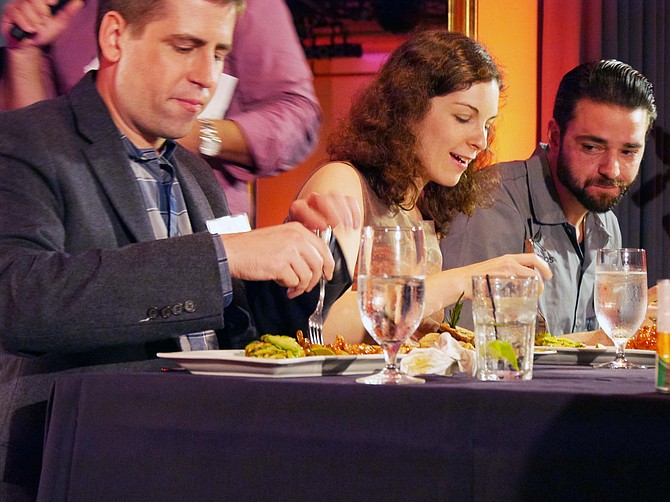 See more 'Chiefs v. Chefs' photos on Facebook.
Steam rises from the pots. Chefs on stage sharpen their knives. The crowd grabs a spring roll or shrimp from trays circulating the room and edges up toward the front of the room in anticipation. The Fourth Annual Chiefs vs. Chefs Live Cooking Competition to support the Arlington Food Assistance Center (AFAC) is about to begin in the Clarendon Ballroom.
The contest includes three courses and each chef is given 25 minutes to complete a dish. The chefs are required to use only ingredients that were available in the AFAC pantry such as chicken, eggs, canned fruit cocktail and canned beans, flour, peanut butter.
As the clock ticks down, the pace picks up. The timekeeper announces "under 10 minutes," and Chef Josu Zubikarai of SER Restaurant lifts the lid on his red skillet to test the temperature of the mushroom-stuffed chicken thighs. Lt. Romulius Queen from the Arlington Fire Department drops flour-coated chicken into a pot of hot oil while his partner, Firefighter Frank Rachal, stirs up the secret Thai-inspired sauce for the zucchini pasta ribbons. The timekeeper announces one minute remaining as the chefs plate their creations and the audience counts down 3-2-1. Out of time.
Judges Scott Brodbeck, ARLnow.com; Becky Kristol, The Washington Post; and Chef George Pagonis, Kapnos Taverna and former Top Chef competitor sit a table on a stage nearby.
The two plates of carefully arranged appetizers are placed in front of each judge. A few minutes later the results are in. A loud bong for the Firefighter Team followed by two more bongs in agreement. They have won the first round.
The soup or salad round features Chef Tom Madrecki from Chez Le Commis with his fiancée and sous chef pitted against Lt. Richard Slusher and Firefighter Blair Cameron. The entrée round features Jesus Guzman from the U.S. Navy as chef against Firefighters Tony Westfall and Greg Hendershot. The chefs won both of these rounds.
This event was AFAC's fall fundraising event. AFAC is dedicated to providing supplemental food items to Arlington residents who cannot afford to purchase sufficient food to meet their basic needs. The organization works with the Arlington County Department of Human Services, other social service agencies and the churches of Arlington to ensure that the clients are legitimate and that the entire range of their needs is being assessed and addressed.