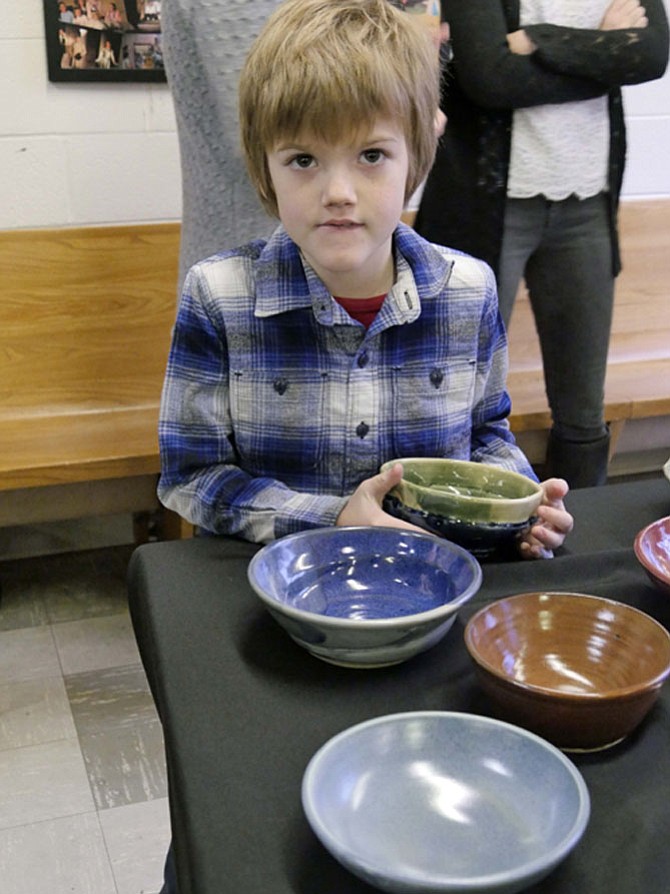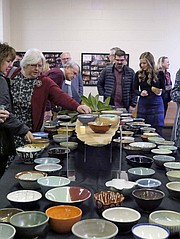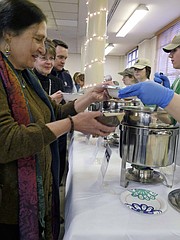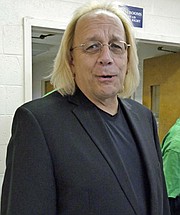 Despite the rainy weather, the parking lot is full at St. Andrew's Episcopal Church on Sunday, Feb. 4, for the annual Empty Bowls fundraising event. Inside the church a line of hungry people are examining a table full of hand made bowls, choosing the perfect one to fill with their choice of soup. Colin Smith carefully studies the bowls, picking up one at a time to show his mother, and finally settles on a shiny green one.
Arlington Food Assistance Center (AFAC) held its sixth Empty Bowl fundraiser at St. Andrew's Episcopal Church with two seatings. The sold-out event has grown from 125 guests in 2013 to 320 this year. Charles Meng, executive director and CEO of AFAC, tells the group that with their support AFAC was able to feed 2,376 families last month in Arlington.
Pick your own bowl, then choose between lobster bisque, chicken corn chowder, chicken noodle, tomato bisque and lentil soup donated by local restaurants. Avery Dick stands in front of a large pot of chicken noodle soup where she ladles a hearty portion for Suzanne McMenamin who says she has chosen chicken noodle because "It is a chicken noodle soup kind of day." This is her second year because it is such a great event. Dick is volunteering to serve soup as part of her community service as an honor student at H-B Woodlawn. Beside McMenamin in line Jennifer Toma has filed her bowl with tomato bisque "because I just love Cheesetique."
Each soup is served in an originally designed bowl donated by one of 18 ceramics studios, high school students and university arts departments including Jimmy Potters Studio, Lee Arts Center, Pig Pen Pottery, Marymount University and the Field School and Episcopal High School as well as individual donors. Bread donated by local bakeries and desserts baked by volunteers round out the lunch.
Funds will be used for operating costs to provide groceries for the over 2,300 families served each week by AFAC.