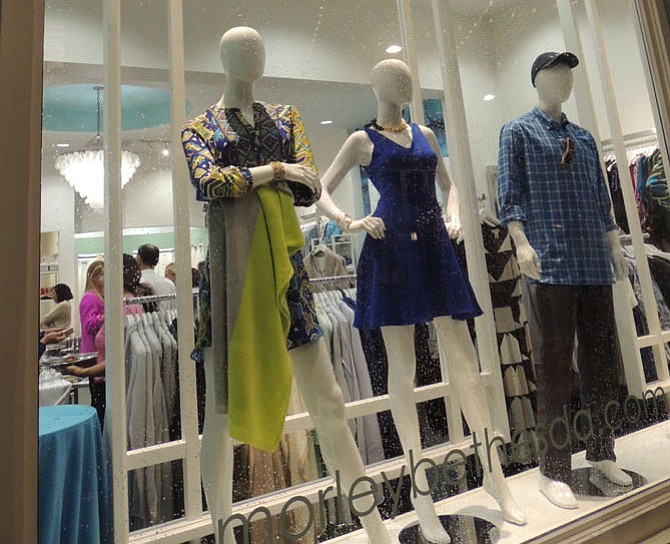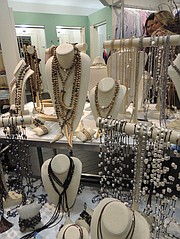 Champagne and hors d'oeuvres flowed on the evening of Oct. 9 at the grand opening of Morley — a new shopping destination in Bethesda Row. The store is "a luxury lifestyle boutique from Delray Beach, Fla. bringing the best of coastal living and beach chic to the heart of Bethesda."
Morley carries jewelry, handbags and everyday apparel as well as silks, cashmere and elegant chic attire. The store was launched Aug. 1 by owner Carrie Delafield.
"With three daughters born one year apart (now ages 11, 12 and 13), I wanted to stay at home, instead of leaving every day to practice law," she said. "Thirteen years ago, I started an on-line baby clothing business and then moved into specialty monogramming. We moved from Darien, Conn. to Delray Beach, Fla., and I opened Periwinkle and Morley, named for my grandfather — and my mother's maiden name. Both have been very successful and when I wanted a third store, I decided to come to Bethesda. It feels wonderful to be here – and we have had an outstanding response from area women and men who are looking for unique – but truly comfortable and wearable."
Delafield is right at home in the D.C. area, since her mother, Lynn Morley Martin served in the U.S. House of Representatives, from 1980 to 1991 where she became the first woman elected to a congressional leadership post as the vice-chair of the House Republican Conference. In 1991, she was appointed by George H.W. Bush to be the U.S. Secretary of Labor.
Potomac resident Linda Clinch and North Potomac resident Barbara Stewart were among the first to shop at Morley. "I love the periwinkle blue and white wrap that I bought — it's so comfortable," said Clinch.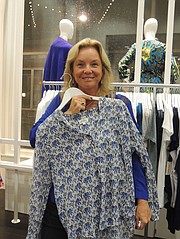 Stewart purchased a necklace that she has worn with many outfits. "I love that the sales personnel are so warm and friendly and really help you find the perfect thing," she said.
The grand opening featured jewelry designers Lola and Dominique Malortigue, a mother and daughter team who create necklaces from freshwater pearls on premium leather as well as semi-precious and precious stone necklaces. They gather their pearls and gems from around the world and design and create each piece to be unlike any other. They have sold their jewelry in France, the Caribbean and the U.S. At least 36 movie stars have purchased their jewelry. "Our jewelry is a family affair. We make everything at home and we try not to resemble any other jewelry on the market," Lola Malortigue said. "We spend a lot of time collecting bone, Indian amulets and antique pieces to add to our jewelry."
"We also provide personal shoppers to help our customers pull together the perfect outfit that they can wear for many occasions – and that includes finding just the right jewelry and handbags to give the outfit a finished appearance." said Delafield. "We want to make everyone comfortable shopping here by providing a warm, welcoming atmosphere and diverse lines of apparel that they won't find anywhere else in the area."
Morley is located at 7114 Bethesda Lane, Bethesda, and the phone number is 301-664-6440. The website is www.morleybethesda.com.