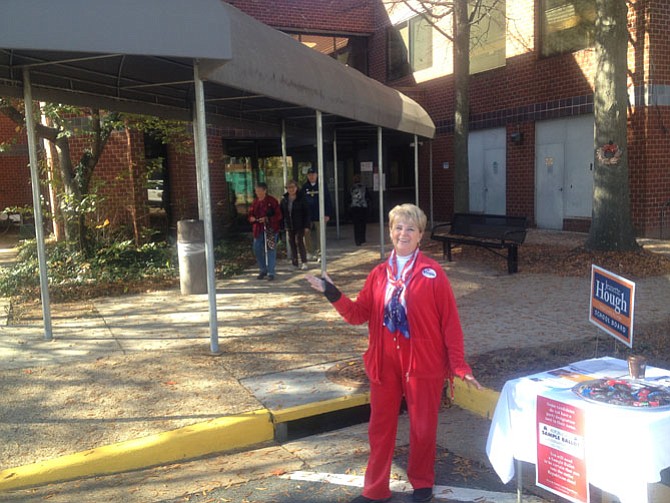 Photo Gallery
Election Day in Herndon and Reston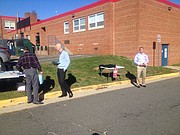 Click Photo for Flash
Polls opened in Virginia from 6 a.m. to 7 p.m. on Nov. 3 for the election, where voters will choose state and county lawmakers. "The turnout at 10 a.m. from the precincts we have heard from are averaging between 4 to 6 percent this morning," said Lisa Connors, public information officer and CIO for the Fairfax County Office of Elections. New machines were installed for last year's election. Another call in was scheduled for 2 p.m.
Issues captured the attention of campaigns were the matters of gun control and tolls on Interstate 66 in Northern Virginia.
At the Hunter Mill District, Supervisor and incumbent Cathy Hudgins (D) ran unopposed. For Virginia Senate, incumbent Janet Howell (D) ran unopposed. Virginia House of Representatives incumbent Ken Plum (D) also ran unopposed. Communities included in the Hunter Mill District include parts of Tysons Corner and Vienna, north Vienna, Reston, Oak Hill, and some areas around Herndon. The voting site at Reston's 1850 Cameron Glen Drive, was tranquil this morning. "We are slower than we would have liked," said chief election officer Susan Berger. With so many candidates running unopposed at Hunter Mill, election officer Dan Kush said some voters were initially confused. "It has been a light turnout," said Kush.
By 10:45, the Hunter Mill district had a turnout of about 9.3 percent or 370 persons. Some election officers expected the turnout may reach 20 percent. "We pay attention to politics, and we know who we stand for," said Hunter Mill resident Marilyn Leitner who put in her vote with her husband, Dave Leitner.

At Herndon Elementary School, the turnout was also described as light. Elections officers arrived at their assigned voting sites between 5 a.m. and 6 a.m. to set up for voters. "People are usually here with their minds made up," said Herndon resident and writer Christian Kachel, who was handing out literature with Eric Boll. Glenn Boysko, husband of candidate Jennifer Boysko visited Herndon Elementary to help provide voting literatures.
Danny Vargas ran for election against Jennifer Boysko. Vargas says retiring Delegate Tom Rust asked him to run to succeed him. Republican Tom Rust, former Herndon mayor, has held the seat since 2002.
Fairfax County voters were presented with bond issues, a $315 million school bond and a $151 million facilities bond. Part of the facilities bond will go towards replacing the Fairfax County Fire and Rescue Station at Wiehle Avenue and Sunset Hills Road, as well as a new animal shelter. "I endorsed both bonds, because they needed service," said Herndon resident Bob Reynolds, who said off-year elections are terribly important. Dranesville District resident Mike Smith decided to vote for the facilities bond. "I go by the old adage, if you don't need it, don't spend it," said Smith. At the end of the night, both the public school bond and the public facilities bond had an over 70% yes vote response.
Jennifer Chronis, a Republican, challenged incumbent Dranesville Supervisor John W. Foust in this November's general election. "We got an incredible amount of robo calls and campaign literature. I was able to read up on the candidates views," said Dranesville district resident Craig Griffin. Griffin decided to vote for school bond issue. At Herndon Elementary, the turnout was at about 302 or 6 percent by 10:25 a.m. "We expect about 30 percent voter turnout, we will have to wait," said voting officer Michael Linck Jr. Linck has served as a voting officer with Fairfax County since 2004.
At the end of the day, Jennifer Boysko won the 86th district election. Boysko replaces Republican Del. Tom Rust, defeating Vargas. With the Fairfax County Board of Supervisors, all eight incumbents, including Chairman Sharon Bulova, were re-elected. When the new board takes office in January, incumbents Pat Herrity of the Springfield District and John C. Cook from the Braddock District will be the only Republican members of the governing body of Virginia's largest jurisdiction. The Sully District seat, formerly held by Supervisor Michael Frey (R), was won by School Board member Kathy Smith (D) over Republican John Guevara. Another School Board member, Dan Storck, took the Mount Vernon Supervisor contest over Jane Gandee (R), replacing the retiring Gerry Hyland (D). (More info on the election here.)
Fairfax County officials, including the Board of Supervisors, will be sworn in at a ceremony on Tuesday, Dec. 15, at 6 p.m. at the Fairfax County Government Center. All elected officials will take office on Jan. 1, 2016.
A full list of all of the races and the results throughout Virginia are available at www.results.elections.virginia.gov.