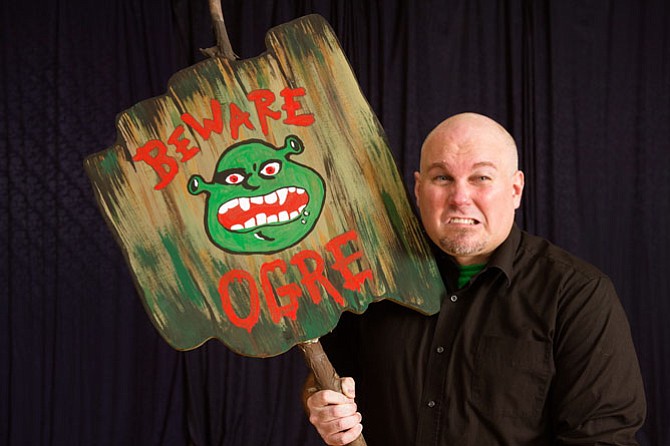 "Shrek the Musical.". Through Nov. 7. Reston Community Center Centerstage, 2310 Colts Neck Road, Reston. It really is a big, bright beautiful world. And love can surely conquer lots, even if you are a big green ogre named Shrek with some bad habits or a spirited princess named Fiona. Add in tap-dancing rats, a 13-foot-tall magenta dragon, a smooth-talking donkey and fairy-tale characters, all to bring enjoyment. Tickets $21-$25. 703-476-4500. restonplayers.org.
"Ephemeral" Exhibition at GRACE. Through Nov. 14 at Reston Town Center, 11900 Market St., Reston. Explore the nature of non-permanent, three-dimensional works addressing the concept of ephemerality. Presented in conjunction with the Washington Sculptors Group. restonarts.org
Ethereal and Natural Reactions. Through Sunday, Dec. 6. ArtSpace Herndon, 750 Center St., Herndon. Ethereal is series of abstract, contemporary art paintings by artist Anne Cherubim. In Natural Reaction, sculptor Brian Kirk reshapes and twists steel into new forms using blacksmithing techniques that focus on the beauty of rust as a surface treatment. Free. http://www.artspaceherndon.com/ethereal-and-natural-reaction. 703-956-6590.
Reston Town Center Ice Skating Pavilion – 2015-2016 Season. November through March. Open daily. 11900 Market Street, Reston. For more information on rates, rentals and schedules, call 703-709-6300 or visit skating@restontowncenter.com.
Art/Craft Programs. 10 a.m.-noon. Saturdays/Nov. 7, 14, 21, 28. Reston Art Gallery and Studios, 11400 Washington Plaza, Reston. Nov. 7-Colorful fall leaves. Nov. 14-Marshmallow sculpture. Nov. 21-Paper bag turkeys. Nov. 28-Holiday decorated snack plates. Ages 3-11. www.restonartgallery.com.