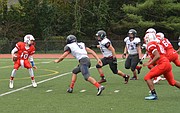 Second-year Woodson head football coach Mike Dougherty has stressed to the Cavaliers the importance of competing while trying to turn around a program that went 10-30 in the four seasons prior to his arrival.
After posting a 2-8 record in Dougherty's first season, Woodson fell to 1-6 in 2015 when the Cavaliers were thumped by Lake Braddock, 61-0, on Oct. 16.
"We just laid down," Dougherty said of the Cavaliers' performance during the blowout loss to the Bruins. "We got behind quick and, unfortunately, they reverted back to what I called the 'old Woodson.'"
The lopsided loss put the Cavaliers at a crossroad.
"It could have been the end of the season," Dougherty said, "or a wake-up call ..."
Woodson responded with three straight victories to end the regular season, including a 38-14 win over T.C. Williams in the finale on Saturday, Nov. 7, and the Cavaliers secured the program's first playoff berth since 2009. Woodson, the No. 15 seed in the 6A North region, will travel to face No. 2 Lake Braddock at 7:30 p.m. on Friday, Nov. 13.
The top 16 teams in the VHSL 6A North region power rankings make the playoffs.
"It shows that the program is changing," Woodson quarterback Jojo Heisley said. "It is going places, it will continue to be going places and this is just only the beginning."
One of the seniors experiencing the playoffs for the first time is defensive back Sumair Bhatti, who had six tackles and two interceptions against T.C. Williams.
"It means a lot," Bhatti wrote in an email. "No one believed in us, except for us. But that never mattered to my team or discouraged us from going out every Friday night to compete with absolute confidence that we could pull out a victory."
While the Woodson defense limited T.C. Williams to a pair of touchdowns, and senior defensive lineman Tarik Hussein blocked a punt for the special teams, the Cavaliers offense found the end zone five times. Heisley completed 15 of 24 passes for 252 yards and four touchdowns, with one interception. He also carried 14 times for 70 yards.
Jack Caldwell caught nine passes for 151 yards and two touchdowns.
Next up for Woodson is a rematch with the Lake Braddock team that blew out the Cavaliers nearly a month ago. The Bruins (9-1) suffered their first loss of the season last week, falling to undefeated South County 33-30 in overtime.
Dougherty acknowledged Friday's game will be challenging for Woodson.
"[We're] playing our best ball right now," he said. "We need to play outside of our heads to compete with Braddock, but I think these kids are up to the challenge."
An upset of the Bruins would help the Cavaliers achieve a goal.
"Our goal at the beginning of the season was to win a playoff game," Dougherty said. "It's great we got there but we want to win a game. ... Is it the safe bet? [Probably not], but right now I'm betting on my guys."