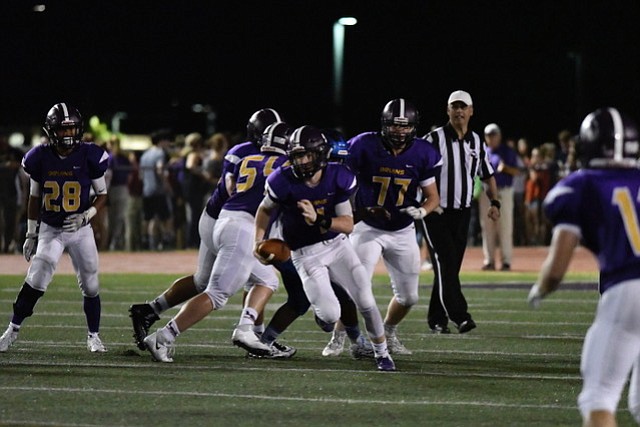 After lightning in the third quarter suspended its Aug. 31 matchup with West Potomac, the Lake Braddock football team returned to its home field the following morning with a chance to bury the Wolverines.
The Bruins led by 15 points and faced fourth-and-goal at the West Potomac 18-yard line with 4:11 remaining in the third quarter when the contest resumed just after 11 a.m. on Saturday. After ample time to consider his options, Lake Braddock head coach Mike Dougherty sent his offense onto the field.
Quarterback Billy Edwards took a shotgun snap, looked to his right and didn't like his first two reads. He then stepped up in the pocket, looked to his left and found his third option, running back Ben Dizon, who hauled in Edwards' pass and fell into the end zone for a back-breaking touchdown.
Not bad for a 15-year-old.
EDWARDS, a sophomore making his second varsity start, completed 17 of 23 pass attempts for 348 yards and five touchdowns and Lake Braddock bounced back from a season-opening loss to three-time defending state champion Westfield with a 50-28 victory over West Potomac on Sept. 1 in Burke.
The 6-foot-2, 175-pound Edwards threw a pair of fourth-down touchdown passes during Saturday's final 16 minutes and 11 seconds of a contest that started the night before but was suspended due to weather.
With Lake Braddock leading 43-28 and facing fourth-and-19 at the West Potomac 29 with less than 5 minutes remaining, Edwards rolled to his left, spotted a receiver running across the field and heaved the ball into the end zone. While the pass was intended for Joe Weidinger, Edwards said after the game, it was fellow Bruin receiver Quentin James who made a leaping touchdown catch between a trio of Wolverine defenders.
"[James] went up and made a play," Edwards said, "and made me look good."
Lake Braddock's offensive explosion came one week after the Bruins lost to Westfield, 42-21. West Potomac stayed within shouting distance for most of the contest, but Edwards and the Bruins continuously made plays and pulled away late.
Dougherty, who is in his second season with Lake Braddock after three years at Woodson and six at Stonewall Jackson, praised his young quarterback's demeanor.
"I think they had a swagger about them today when they got out on the field, they knew they could put points up every time," Dougherty said about the Lake Braddock offense. "[With the Bruins leading] 22-21, Billy wasn't worried. When a 15-year-old looks at you and is like, 'We've got this,' that's pretty cool."
Edwards played for the Lake Braddock freshman team in 2017 and saw brief action for the varsity during a playoff victory against T.C. Williams. His brother, Kyle Edwards, a 2016 Lake Braddock graduate, was a two-year starter at quarterback for the Bruins and is now a junior on the University of Alabama football team. Billy said Kyle stressed watching film and being prepared to face the opponent's defense, which has helped Billy's development.
"His presence is what surprised me the most," Dougherty said. "The kid is 15 years old, and most 15-year-olds are throwing their Xbox control on the ground because they died in 'Fortnite.' This kid, he's savvy. He comes from a football family. [His] dad is a coach, his brother plays at Alabama, it's just in his blood. To see him develop from … freshman football to now, I've never seen growth like that. I've [coached] guys that are in the NFL and I've never seen a one-year jump like that."
Edwards has plenty of weapons at his disposal when operating the Lake Braddock offense.
DIZON, along with catching an 18-yard touchdown pass on Saturday's first play, carried 18 times for 189 yards and a score. He also showed off his return skills, taking a kickoff back for a touchdown with 4:05 remaining in the second quarter after West Potomac had cut the Lake Braddock lead to 22-21.
"My whole kickoff return [team] literally blocked perfectly," Dizon said. "It was a clear straight away and all I had to do was beat the kicker. It worked out perfectly."
Dizon suffered an ACL injury last season and was cleared to play during the summer.
"If we can keep him healthy and continue to have a performance like that out of him, it just makes Billy's job that much easier," Dougherty said. "… He's a problem for defenses."
James caught five passes for 148 yards and two touchdowns for Lake Braddock. Weidinger had six receptions for 137 yards and two touchdowns.
Weidinger, James and Riley Schulte each intercepted passes for the Bruin defense.
Next up for Lake Braddock is a trip to Ashburn to face Stone Bridge at 7 p.m. on Friday, Sept. 7.
"[Beating the Wolverines is] huge, especially because last year we started off the season 0-3," Edwards said. "Getting this big win, especially versus a great program like West Potomac … it's a big confidence booster."