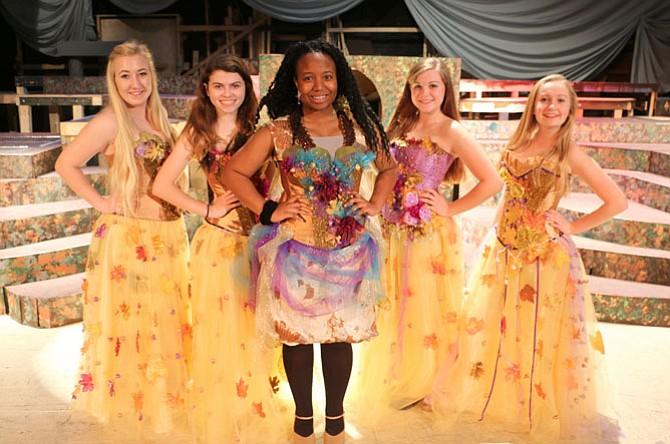 To Go
Showtimes are Thursday, Nov. 19, at 7 p.m.; Friday-Saturday, Nov. 20-21, at 7:30 p.m.; and Sunday, Nov. 22, at 2 p.m.
Tickets are $10, adults; $5, students and senior citizens, at the door.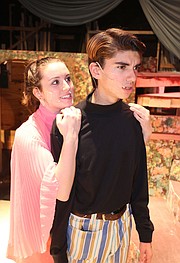 It's not your father's Shakespeare; instead, it's Paul VI High's fresh, lively and modern take on the romantic comedy, "A Midsummer Night's Dream." It's the school's Cappies play and will be performed Nov. 19-22.
Although the scenes still take place in an enchanted forest and in Athens, Greece – complete with stone columns and buildings – the time period has been changed to the early to mid-1960s. And the cast and crew of 50 are having a great time with it.
"The costumes are sixties mod, with stripes, flowers and bright colors," said director Katherine Miller. "And we're playing little snippets of lots of fun, sixties music, including songs from Herman's Hermits, The Monkees, Manfred Mann and The 5th Dimension."
THE STORY follows the adventures of four, young lovers and a group of amateur actors. It shows their encounters with woodland fairies, plus a duke and duchess, and illustrates how falling in love can lead to many complications.
Miller set it in the early 1960s because "it was an energetic and visual time that'll be nostalgic for a lot of people. It was pre-Hippies, but had an unrealistic, dreamlike quality for many people. And the set will be ridiculously cool; it even has lots of trap doors with characters popping in and out. We also have some really neat, special effects up our sleeves."
Besides all that, she said, "I have an incredibly talented cast of actors, dancers and acrobats. This is one of Shakespeare's shortest plays and moves very fast. The kids have been able to dissect the language and interpret the lines so the audience will easily understand them. It's a user-friendly show for the whole family."
Junior Caleigh Davis plays Helena. "She's in love with a guy who dumped her for her best friend, so she becomes obsessed with him," said Davis. "She can be sweet and girly at times to people she loves, but she's also stubborn and strong-willed. So when she thinks someone's trying to prank her, she gets upset. She stands up for what she believes in, which makes her idealistic."
Davis is having fun with her rule because Helena is "very active and physical. And when she talks nonsense, I use my body and gestures to explain what she's saying. She's a complex and interesting character."
Davis said the audience will love the fight scene, plus the comedy. "They'll also like how it has some real-life aspects in it, like lost love and reclaiming that love," she said. "It's the original rom-com."
Senior Isabella Whitfield portrays Quince, the director of a play that the "mechanicals" – a group of lower-class Athenians – are putting on for the duke's wedding. "She's super-uptight and wants the play to go perfectly," said Whitfield. "But Nick Bottom, one of the actors, keeps undermining her authority by trying to take control of the play, instead of letting her direct."
It's a difficult part, she said, because she's never before played an authority figure. But, she added, "I like it because, as a director, I get to boss people around." Whitfield said show attendees will appreciate "how we're making Shakespeare more understandable and accessible to younger audiences. We're trying to better interpret the lines through our actions and how we say the dialogue."
Playing Bottom is senior J.J. Cummings. "He's a weaver," said Cummings. "He's a normal worker in the Athens streets; he makes carpets and rugs and is a nobody. But he decides to become noticed by joining an acting company with his buddies. He's very boisterous and likes to lead, but isn't that great at it. Overall, he's a good guy, but can sometimes be a jerk."
Cummings loves his role because "Bottom's such an interesting character. He's in everybody's faces, saying, 'Do things my way.' But he acts like that because nobody ever noticed him in his everyday life and he wants people to look up to him."
Cummings says the audience will like the interactions between the main, romantic couples. "Seeing them fight with each other – even though they don't want to – is really entertaining," he said. "And the set is phenomenal because of its tricks and secrets and the way it looks. It has nine, different levels and tiers for the actors to stand on, which gives us more to do while we perform."
PORTRAYING TITANIA, queen of the fairies, is senior Sonya Chinje. She lives in the woods, governs nature and tells the other fairies how to maintain the earth. "She's authoritative, definitely knows what she wants and will stop at nothing to get it," said Chinje. "She's a good, female character and is lots of fun. She's also nice and kind to her fairies and is friends with them."
Chinje enjoys her part because "The fairies are all so sweet and I love hanging out with them. And my costume's really cool. I also love the freedom I get playing Titania because I'm able to interpret the role, myself, and how I want her personality to be."
Overall, she said, "The show has lots of surprises and the story takes several twists. Our cast members work extremely well together, and the audience will like seeing this play set in the '60s – which is a big change from the original."