In the town of Vienna near Mile Marker 12 on the Washington and Old Dominion Trail (W&OD) past the red caboose and headed west is the Caboose Brewing Company. Located at an industrial park near the bike trail, Caboose combines varieties of beer with a farm-to-table food menu from chef Brandon McDermott. "The beer is well made. I like the variety and the location is great," said Wayne Coakley, a resident of Fairfax and patron of Caboose Brewing Company. Caboose Brewing Company had its grand opening May 2015, and is preparing for its first winter.
With its location next to the W&OD trail, you may hear the click-and-clack of bike shoes on the weekend. The interior of Caboose has wooden tables, a bar and rail, and views of the brewery's steel tanks. The restaurant logo decorates one end of the dining area, and graffiti artists designed murals on the bathroom walls. "On Saturdays, we get a lot bicyclists and trail people," said chef Brandon McDermott. McDermontt has been impressed as to how area breweries offered advice and assistance. "It has been camaraderie instead of competition," said McDermott.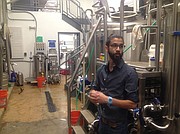 "We are definitely about collaboration," said Meth Gunasinghe, a manager at Caboose Brewing Company. Gunasinghe, a resident of Falls Church, enjoys the Caboose Brown Ale, which combines caramel with dark malts and a dash of hops to create a beer with a touch of sweetness. Another drink many of the staff enjoy is the Caboose Car Hopper IPA, an India Pale Ale (IPA). The brewery has five or six core beers crafted at the 15 barrel brewhouse and served on the premise. Guided tours of the brewery are offered Tuesdays 4 p.m. and 5 p.m. and the last Saturday of each month at noon and 2 p.m.
"Over the last few years beer has gone from huge national breweries, to large scale micro-breweries, and now we are going to small scale local nano-breweries," said Dave Mackie, a beer buyer at The Wine Cabinet located at Reston. Gov. Terry McAuliffe declared August Craft Beer Month, and some believe Virginia is entering into a "Golden Age of Beer." Other area breweries include Aslin Beer Company in Herndon, and Mad Fox Brewing Company, which has a gastro brewpub in Falls Church.
CABOOSE signed with distributor Ferment Nation, and Caboose craft beer has been available at Norm's Beer and Wine store in Vienna. Caboose Brewing Company owners Matt and Jeanine Greer and Tim and Jennifer McLaughlin planned over a year for the permits and equipment for the Caboose gastropub and brewery. The kitchen follows the "Farm to Table" model, sourcing ingredients from local farms and artisans. The establishment highlights local resources and the menu includes pot pie, and grass-fed beef burgers.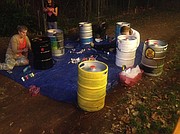 The brewmaster is Chris Mallon, of Baltimore's Heavy Seas Alehouse. Darker beers will rotate at Caboose though the winter. Some seasonal items the brewery will put out are a vanilla bean infused imperial stout called "Hobo Stout" and a ghost pepper pale ale named "Ghost Train." Regarding the food menu, seasonal items featuring celery root and parsnips will make an appearance. "Were doing a chicken pot pie for the winter as a warmer item," said McDermott.

"I like the saison, it is peppery, and has been with us since the beginning," said Samantha Johnston, a server at Caboose. The saison is a belgian yeast strain, and is a dry beer with notes of citrus. Customers and visitors agree, Vienna's Caboose Brewing Company combines a small-town pub atmosphere with the modern environment of Northern Virginia.
While traffic along the bike trail will slow down with winter, Caboose will host events to engage the community, including a running club (meets Mondays at 6:30 p.m.) and yoga group (Tuesdays at 9:30–10:30 a.m.).
THE FIRST "TRAILS & ALES" fun run is Nov. 23. Caboose has partnered with Joann Meginley, co-owner and fitness instructor at Grass Roots Fitness, who will lead these runs every Monday at 6:30 p.m. The yoga group led by instructor Marni Sclaroff, is $15 dollars per person and welcome to all levels. Heaters will be installed on the outdoor patio soon. Caboose is currently booking for private events for the holidays. More information can be found on the website at www.caboosebrewing.com.